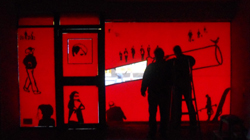 EVERYDAY PEOPLE (WALLASEY) PARTS 1 + 2

February 2012. Two shop window displays commissioned by Wirral Borough Council as part of their Empty Shops Scheme. With thanks to Neil Mitchell (WBC), Steve and the team at labels'n'signs, Roger Cliffe-Thompson, Li at NY Nails and Will Thomas at Mason Owen.
Based on four-second drawings, the two units capture those moments between home and work that define a particular area's character; the everyday tasks of buying toilet paper, coming home from school, walking the dog, carrying a carpet and so on. The works will remain until either unit is newly let. Further work in Seacombe currently at research stage.

44 Wallasey Road
50 Wallasey Road