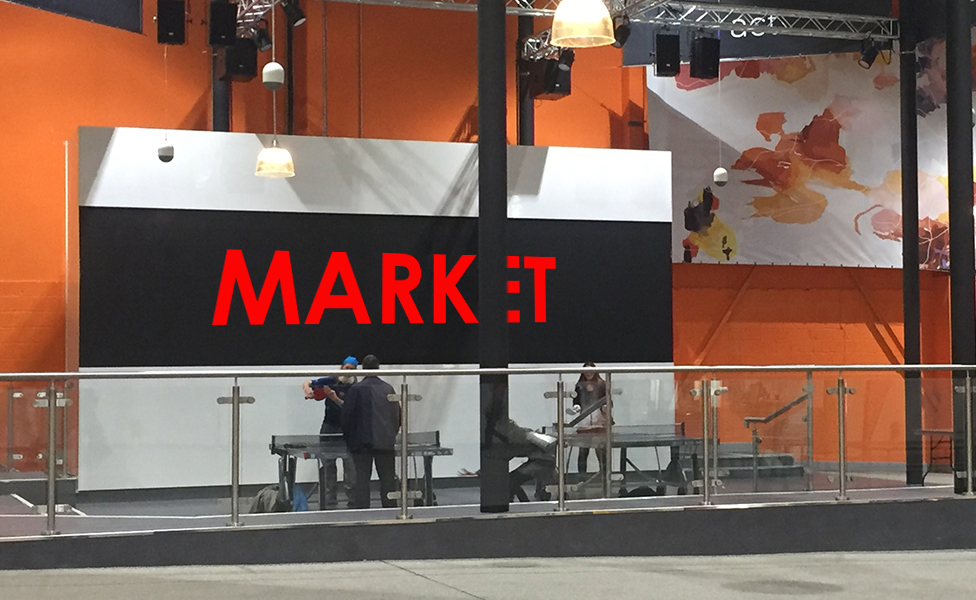 FOUR WORDS: MARKET curated by Alan Dunn, with Peter Lewis & MA Art & Design, Leeds Beckett University, Kirkgate Market, Leeds, 4.00-5.00pm on Friday 2nd September 2016, supported by Leeds Beckett University and Pop Art Media Group.
Texts by
Otto Berchem / Lucy Bergman / Keith Bowler / Hui-Yu Chen / Alan Dunn / Pippa Eason / Gilbert & George / Douglas Gordon / Trish Hewitt / Juneau Projects / Nicola Knight / Peter Lewis / Toby Phips Lloyd / Kieran May / Petra McCarthy / Letizia Moricca / The Pop Group / Josh Robinson / Jaydon Rowbottom / Becky Shaw / Peter Suchin / Claire Tomas / Karen Watson & Jon Wakeman / Jack Wolff
Background
The FOUR WORDS: MARKET project has been developed to mark the opening of the 2016 MA Art & Design exhibition at Leeds Beckett University. It is also part of an ongoing series of billboard and screen works considering the relationship between the everyday and the avant-garde. As major new commercial franchises encroach around Kirkgate Market, the largest covered market in Europe, the market needs to reinvent itself. FOUR WORDS: MARKET is a series of 15-second four-word statements by students, artists, musicians and cultural practitioners that test our ability to imagine a future market. FOUR WORDS: MARKET will run for one hour prior to the MA opening at 6pm.
Growing up in Glasgow, we used to go to the Barras every Sunday: church, then lunch, then the Barras. The Barrowlands (Barras) is a large area of covered markets with a Ballroom, where later as an art student I'd later see The Cramps, Jesus & Mary Chain, Ramones and Smiths. The Barras were an absolute wonder. It felt like being abroad with the sights, colours and smells. You could get anything there and after my Dad paid his regular visits to Wilson & Allan (Photography Supplies, next to the rank seafood place) and Bill's Tool Store, we got to explore the alleys and dark stairs, seeking coins, football programmes and later rare 7" singles. In 2006, working with Jeff Young and CRISIS/Skylight, we took a group of vulnerably housed individuals around Spitalfields Market while trying to get a footing on what would become the Arnold Circus project. Spending time in Kirkgate Market preparing FOUR WORDS: MARKET, I am struck again by the sense that markets are important as providers of possibilities, palaces of dreams and portals to somewhere magical.

Photographs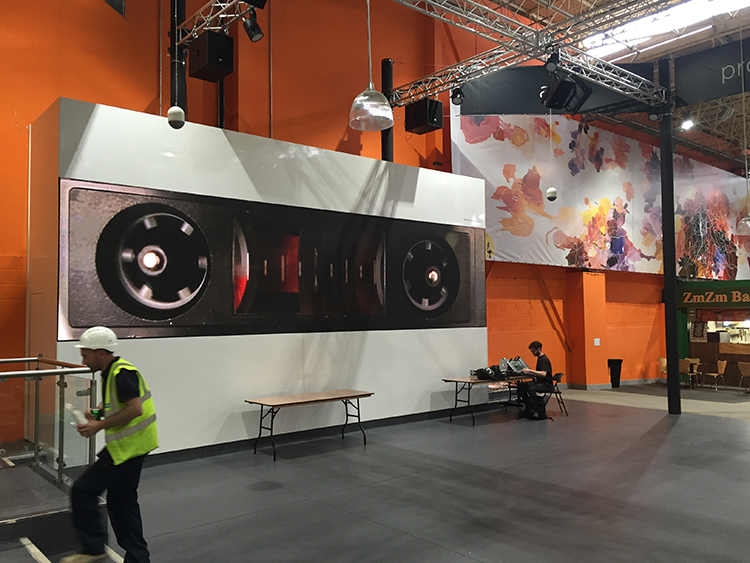 Biographies

Otto Berchem is an American artist currently living in Bogotoa. We first collaborate on a tenantspin project in 2003. His contribution refers to the 1912 bread and roses strike in Massachusetts.
Lucy Bergman is an artist, lecturer and currently a student on Leeds Beckett University's Advanced Professional Diploma in Professional Practice in Art and Design course. She is currently exhibiting in Antarctic Circles in Halifax.
Keith Bowler is a London-based artist, currently exhibiting in Wuppertal.
Hui-Yu Chen is a current MA Art & Design student.
Alan Dunn studied at Glasgow School of Art and co-runs the MA Art & Design course with Peter Lewis.
Pippa Eason is a current MA Art & Design student.
Gilbert & George say "We want our Art to bring out the Bigot from inside the Liberal and conversely to bring out the Liberal from inside the Bigot." Their four words are scanned from their hand-written submission.
Douglas Gordon studied at Glasgow School of Art and won the Turner Prize in 1996. His textwork "I believe in miracles" comes from Instruction (Number 7), (I believe in miracles), 1994.
Trish Hewitt is a current MA Art & Design student.
Juneau Projects are Ben and Phil and their contribution derives from the Hill Climbing algorithm, a mathematical algorithm used in computer science. It relates to the notion of optimising things to encompass the whole of a problem, rather than just examining individual peaks and troughs.
Nicola Knight is a current MA Art & Design student and lecturer at Leeds College of Art.
Peter Lewis is an artist, writer, curator, lecturer and course leader of the MA Art & Design course.
Toby Phips Lloyd is an artist and part of Lloyd & Wilson. His original contribution has a question mark at the end and we negotiate its removal.
Kieran May is a current MA Art & Design student.
Petra McCarthy is a current MA Art & Design student and lecturer at Leeds College of Art.
Letizia Moricca is a current MA Art & Design student.
The Pop Group "formed in Bristol in 1977 out of a sense of disenchantment with the increasing conservatism of punk." They are superb live. Their contribution "There are no spectators" is the title of a track from their 1980 LP "For How Much Longer Do We Tolerate Mass Murder?" We first collaborate on the 2014 billboard.
Josh Robinson is a current MA Art & Design student.
Jaydon Rowbottom is a 2nd year Graphic Arts & Design student at Leeds Beckett University.
Becky Shaw is an artist, formerly based in Liverpool, and currently Post Graduate Research Tutor in Art and Design at Sheffield Hallam University.
Peter Suchin is an artist and critic, having written for The Guardian, Art Monthly and Frieze. He staged his solo show A Critical Contagion in the Quiet of the Night at &Model in Leeds in 2014.
Claire Tomas by Lilli Mathod.
Karen Watson & Jon Wakeman are artists and founders of East Street Arts in 1993, a "contemporary arts organisation in Leeds whose mission is to focus on the development of artists through our events programme, membership activities, professional development and studio/facility provision." They say of their submission: "the ideological differences between the world markets and the local market are unbridge-able."
Jack Wolff is a current MA Art & Design student.

Pop Art Media Group are Steve and Rick and are the creative team behind the design and installation of the 8x2m Leeds Kirkgate Market Digital Screen.
GIFs


Click to view gif versions of all animations.
Credits
Animations by Alan Dunn. With thanks to Steve Iball and Rick at Pop Art Media Group, Jack for the live soundtrack, Chris Bloor for the original introduction, Keith for brokering the Gilbert & George contribution, Shirin Kooyhar at Future Noise Music for brokering The Pop Group contribution.
Four
We have explored 4 before - Adventures in numb4rland and FOUR WORDS.