10-29-2005, 04:15 AM

---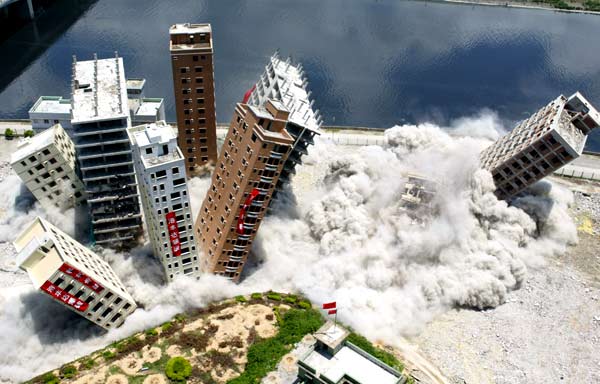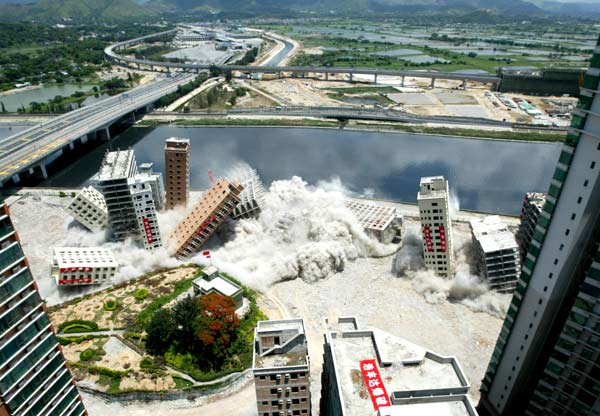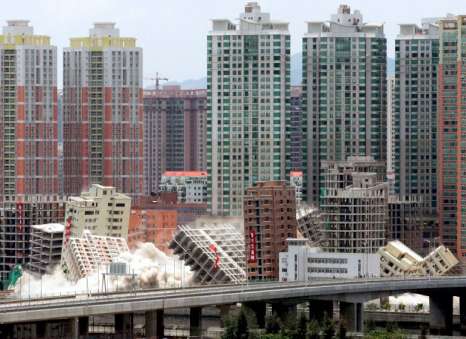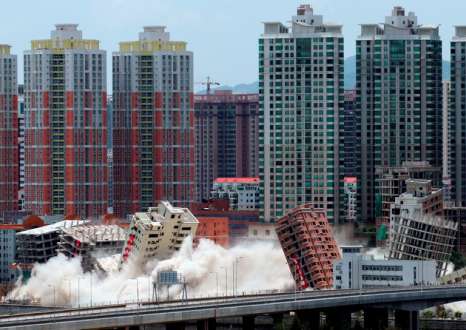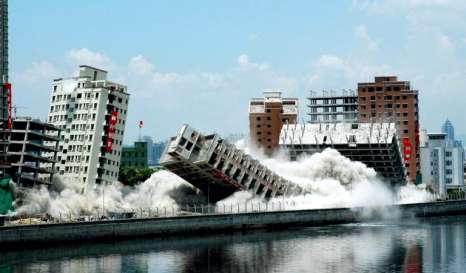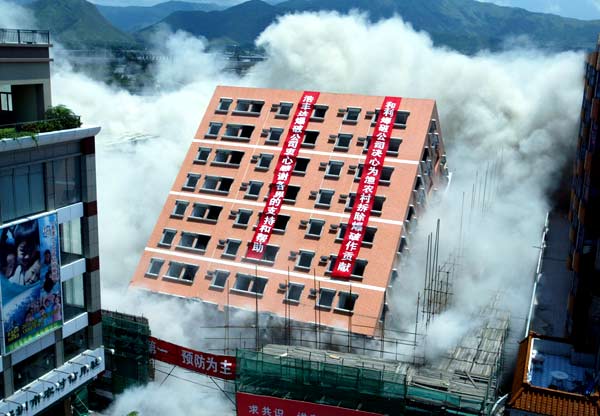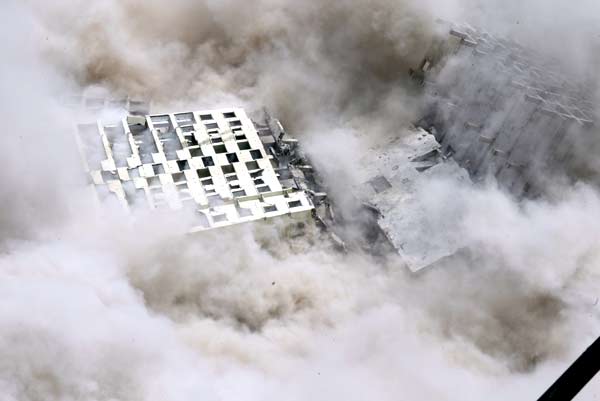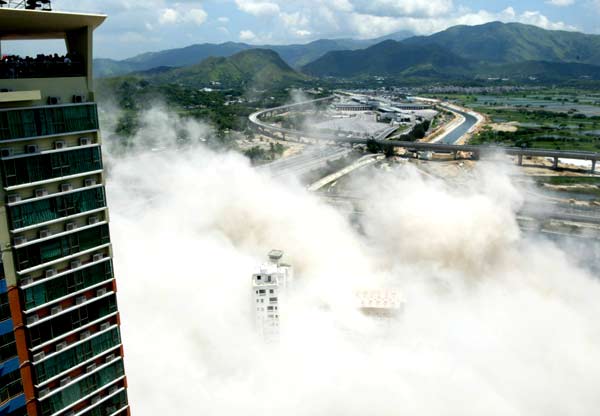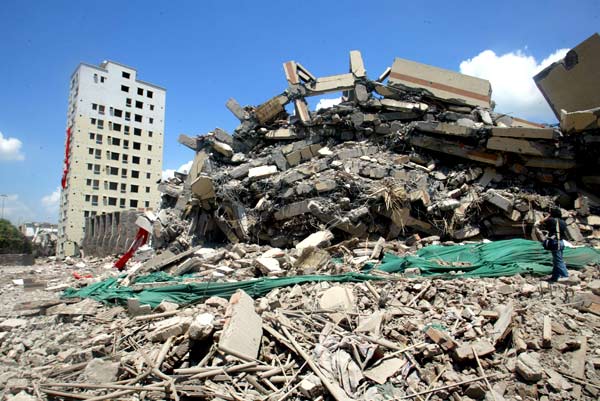 10-29-2005, 04:32 AM
| | | | |
| --- | --- | --- | --- |
| | | | Location: houston, texas, usa |

10-29-2005, 09:21 PM

Taking Tiger Mountain ...
---
Collapsing semi new buildings in a Chinese delta
to make way for more like the towers standing behind
?


10-30-2005, 12:52 AM

---
Huge blast in Shenzhen
Huanggang - Shenzhen, China

Fifteen buildings toppled in a demolition project in Yunong Village near the Huanggang Checkpoint on Sunday (May 22 2005).

The demolition, dubbed "China's No. 1 blast" by Chinese media, covered an area of 51,000 square meters, the largest ever in China.

The project targeted 16 buildings above eight floors, the biggest number of high buildings to be blasted in one operation in China.

Sunday's controlled explosion only toppled 15 buildings and partly damaged one. Authorities planned to pull down the remaining building with bulldozers within 24 hours. The area around the building was sealed off.

"The explosion was very successful although one building was not knocked down," an explosion expert told a press conference after the explosion.

The 15 buildings were demolished within 15 seconds. Nearly 10,000 people were evacuated, and no one was injured.

The Lok Ma Chou Bridge linking Hong Kong and Shenzhen was closed for 35 minutes during the explosion.

The government started demolishing old buildings in Yunong Village on March 8 to build the community into a better one. Before the explosion, 90 old buildings there had been dismantled.

A new Yunong Village will be built at the site of the old village, and 250 residents will move into new homes in several months.

Yunong Village used to be charicterized by "hand-shake" buildings, which are so close that neighbors can shakes hands from their windows.

The rush to build high buildings in the village started in the 1980s when migrants flooding into the Shenzhen Special Economic Zone were looking for rented flats. Many of the buildings were built without government approval.

Poor ventilation and security in such buildings were always a headache for the government.

The municipal government launched the "Action Combing" campaign in March 2004 to rid the special economic zone of all illegal buildings within two years.

But the government's efforts to get rid of the illegal buildings had suffered repeated setbacks, with new ones emerged while old ones being dismantled.

Yunong Village's rush to build high buildings accelerated in 2004. Some 37 high buildings were illegally built in the village after August 2004, although 52 old buildings were dismantled during the period.

Yunong Village was the epitome of Shenzhen's efforts to transform the urban villages, said a government official.


10-31-2005, 12:00 AM
| | | | |
| --- | --- | --- | --- |
| | | | Location: Los Angeles, California |
« Previous Thread | Next Thread »


<![if !supportLineBreakNewLine]>
<![endif]>
| | |
| --- | --- |
| Posting Rules | |

<![if !supportLineBreakNewLine]>
<![endif]>
All times are GMT. The time now is 10:00 PM.