May 1968 Time Tunnel, programmed by John Hyatt, Fabric District, Liverpool, 10-13 May 2018.
In Paris in May 1968 Vangelis left his studio to gather streets sounds while at the end of the month The Beatles began work on their landmark assemblage Revolution 9. Fifty years on, MA/68 revisits these with a sound collage for Tannoys featuring street recordings and slogans from Je suis Charlie, Welcome to the Dark Ages, The Pop Group, Aston Academy, The Band of Holy Joy, Louis Malle's Milou en Mai, Marijampole Capital of Culture event, International Women's Day and art students from Leeds Beckett University, University of Central Lancashire, Wirral Metropolitan College and Liverpool John Moores University.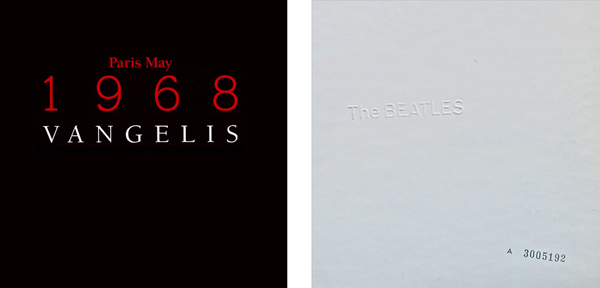 Contributors
Alex Ashcroft, BAD PUNK: James Stephen Finn and Johny Brown, Dinah Bird, Cathy Butterworth, Commoners Choir, Clinic, Hannah Dargavel-Leafe, Gintas K, Jason M Graham, Matt Green, Christine Hinchliffe, Tom Hobson & Rhianna Griffiths, John Hyatt, Marti Kikojan, linecrosscurve + Pete Greenwood, Paul McConnachie, Ben Parry, radio continental drift, The Redmen TV, reg jula / jala quartet, Joaquin Ronco, Balam Ronan, Michelle Rowley with Suzy Chappell, Helon Conning, Claire Rice, Louis Jeck Prestidge and Vincent Lavell, Mark Stewart, Valérie Vivancos, Chloe Watson-Gaukrodger, Jeff Young.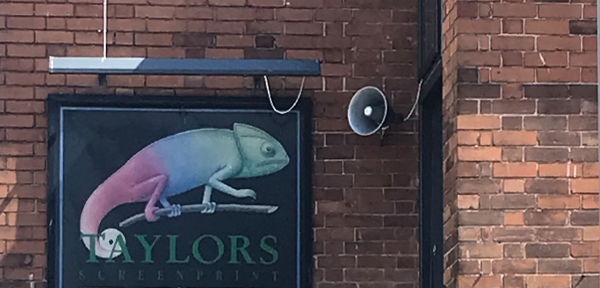 Running order
Click here for hand-out with running order.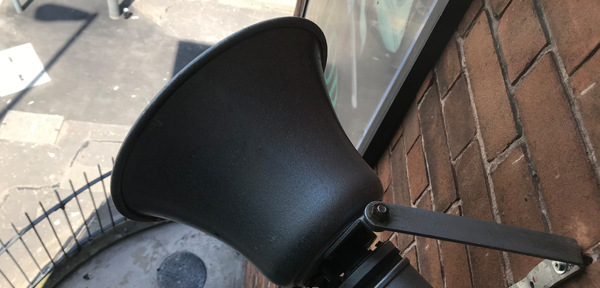 MP3 version
This is cantaudio045 - click here for MP3 of final sixty-minute mix (72mb).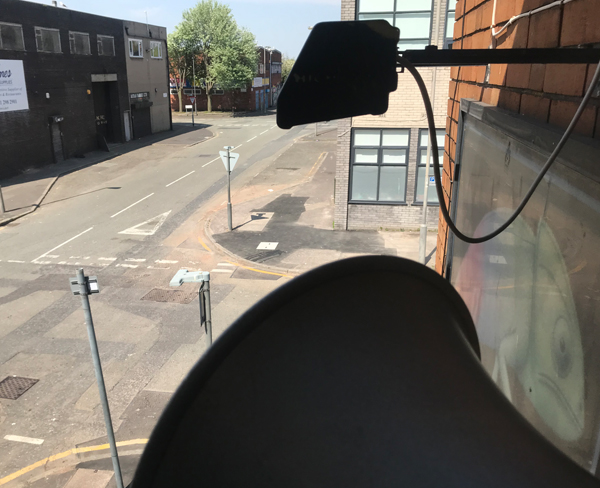 Content
BAD PUNK: James Stephen Finn and Johny Brown - An hour in Paris, 1968
BAD PUNK on Resonance
The Band of Holy Joy
Commoners Choir
Signs Songs - Pedestrians Push Button
Signs Songs - Danger Overhead
Signs Songs - Danger of Death
Signs Songs - No Skateboarding
Signs Songs - Have You Paid & Displayed
Signs Songs - Way Out
Commoners Choir
Valérie Vivancos - Captations Péripatétique
A piece for the answering machine of the Palais de Tokyo in 2011 and recorded snippets of texts found in the street, on walls and in shop windows.
Ocean Viva Silver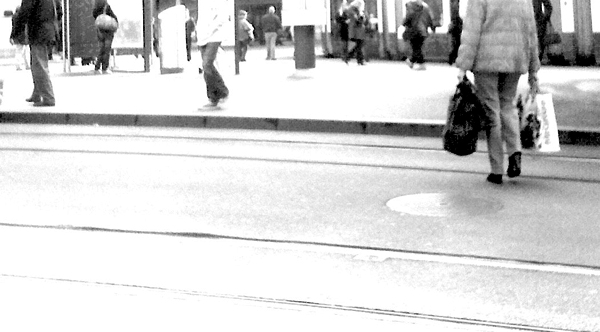 Balam Ronan
A recording made in Comercio Street, in the city of La Paz, Bolivia, at 21:30h, a street where there is a street market and all kinds of things are sold: food, clothes, objects, electronics…
Balam Ronan: artista sonoro / sound artist
Dinah Bird
An unedited recording of the 'Je suis Charlie' demonstration on Sunday 11 January 2015 in Paris that followed the killing of the cartoonists and journalists at Charlie Hebdo.
DINAH BIRD\JEAN-PHILIPPE RENOULT: QUAND ÇA FAIT DING DING DI GUE DING
Jason M Graham - Prayer Bowls Chime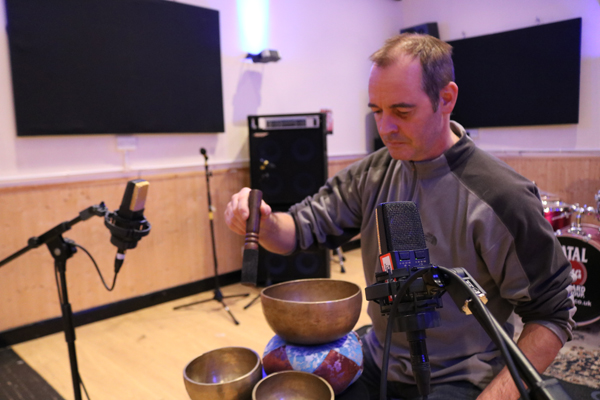 Joaquin Ronco - Welcome to the Dark Ages
Excerpts from a Kali Yuga mixtape by Joaquin Ronco (aka noisesurfer), recorded in February 2018, Ciudad Real, Spain: recorded on tiny electronic machines into a Ford "Timelord" Mondeo, a folk band playing Joaquin Sabina - 19 Días y 500 Nioches - and the artist sat at the bar claiming 'the liberation today is impossible, people today has comfortable, not as the people on May 68...'
noisesurfer
Paul McConnachie - PhD candidate Liverpool John Moores University Art & Design
(Black strip/put your card in). This is a response to what was achieved by Vangelis and the Beatles in the 1960s. The sounds have changed but collage stays the same! The artist has layered sounds from sonic walks throughout the city of Liverpool. These sounds are traces of a time, fleeting moments of a memory digitally stored. They are a sonic diary of daily occurrences that we can experience as we walk through most major cities. Cries of revolutions meet buskers, whilst trains screech and brake adding to our sonic palette of noise/sound. This is music to our ears and noise to others. This is the sound of the city!
linecrosscurve + Pete Greenwood - THE STATE OF EDUCATION
The February Declaration
There is no graffiti.
No slogans.
Just sanitised/desensitised culture.
Social apathy.
Moral impotency.
"This generation got no destination to hold"
I've walked along this corridor > staircase > through this hall > into this classroom > moved (seven) times round the seasons
Now, Iook, respond, return.
"Got a revolution, got to revolution"
Jefferson Airplane Volunteers
linecrosscurve
Pete Greenwood
reg jula / jala quartet - The Message
An improvised cover of Cymande's The Message incorporating industrial sounds. Engineered Mixed and Mastered by Reg Jula @ The Dock Heist Unit.
Alex DT - Drums
Adam Fenwick - Bass
Jack Wolff - Electric Piano
Lewis DT - Electric Guitar
reg jula
Gintas K
20.01.2018. Marijampole culture capital event. Marijampole town. Basanaviciaus square. Gintas K jingle for event.
Gintas K
Mark Stewart - Information Medicine main vox and Soft Paranoia main vox
With thanks to Shirin Koohyar and METAL for original introductions.
INFORMATION MEDICINE
the collapse of everything
game over
information medicine
suffocation
phone addiction
from invisible to invincible
slavery still exists
neuro-plasticity
high jack's you mind
change
bearing your brothers cross
none of us could forget that fateful day

SOFT PARANOIA
Soft Paranoia
Forbidden History
Faith is the room for doubt
Soft Paranoia
The insolent nemesis
captured your heart
don't look back
don't look back
a little knowledge is a dangerous thing
Forbidden history
why horses?
the centre cannot hold
Insidious
Paradox soldiers
the age of over supply
the world is flat
the secret history
the forgotten depressions
Killing the host
Parasites,
Ruin and reward
Thinking fast and slow
The Wasteland
Soft Paranoia
The insolent nemesis,
captured your heart
The Pop Group Spotify
Mark Stewart Facebook Page
Louis Malle - Milou en mai / May Fools (1990)
Michelle Rowley - Liverpool Graffiti and The Coalition of Concern
Vocals recorded with Suzy Chappell, Helon Conning, Claire Rice, Louis Jeck Prestidge and Vincent Lavell (Wirral Metropolitan College)
RENT CAPS NOW! - Old Lewis' Building
DON'T VOTE FOR FASCISTS - Wood St
THE AMERICANS HAVE COLONISED OUR SUBCONCIOUS - back of American Pizza Slice, Wood St
FUCK WORK (FCK - WRK) - Rope Walks
Student Seminar: The Coalition of Concern at the St Georges Plateau 12 June 2017:
RETHINK YOUR VALUES
TAX THE RICH
IMAGINED FUTURES DON'T WORK FOR ME
REWRITE THE RULES
BAN ZERO HOURS CONTRACTS
NEW REALITIES AROUND THE CORNER
WE MAKE THE SAME MISTAKES
THEIR VALUES ARE NOT MINE
STAND IN MY SHOES
EDUCATE YOURSELF FOR DEMOCRACY
DO WHAT YOU CAN


Cathy Butterworth - Liverpool Slogans
The average person thinks they're more intelligent than average
Do you think you're more intelligent than the average person?
Never not be happy
A dog is for life not just for Christmas
They don't want me anymore because I'm too old
Women are not outside for your entertainment, stop telling women to smile
Be the realnes
Be the hope
Teach Paece
I AM
AAAAAAhh
Austerity means 25% of women now
Your approval is not required
When writing the story of your life, don't let anyone else hold the pen
If my mind can conceive it and my heart can believe it then I can achieve it Muhammed Ali
Rude kids
Whatever
Be the change you wish to see in the world
Change?
Take your dream more seriously
Poor are people
LOVE
Do you worry about global climate change?
Fuck you NWO cunts
Poor pensioners
Imagine all the people living life in peace. You may say I'm a dreamer but I'm not the only one,. I hope some day you'll join us, and the world will be as one.
Imagine how the world would look right now if Lennon's word came true… A better world for your loved ones… A better world for you. Imagine if all the people who believed and felt their power imagined they could change this world… By the second, minute, hour Lennon believed we had the power. If the masses did unite. He saw the war and anger. His songs became his fight
7000 cars in Liverpool
Don't put up with your boss's crap
Save the planet, don't use aerosols
Where does the red road go?
Be wary con artists in the area, 62 people scammed
Seize the means of promotion
Live for the future, never forget the past
EDL Scumm
Whatever
Be the light be the love

John Hyatt - Dog barking at a steam train - 02_03_2018, 13.05 and Drummers-are-coming
Professor John Hyatt
Christine Hinchliffe - 165K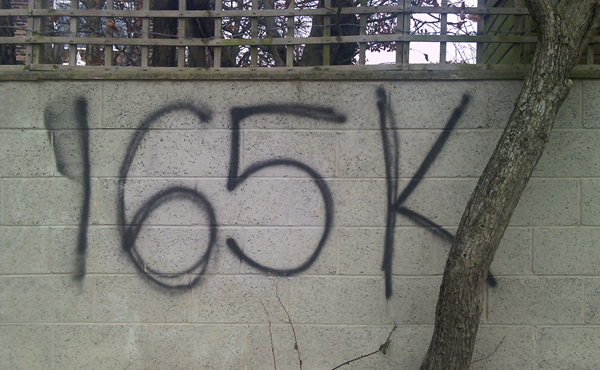 Jeff Young - Prague 89
Jeff Young's Notebooks ~ outlaws and demons
Marti Kikojan
The composition connects to the most memorable event in Estonia's history, namely its 100th anniversary. The artist reflects on the patriotic spirit that affected their normal everyday life and made even the least interested folks grab a little national souvenir flag and make a selfie and the marching drills in the dead centre of Tallinn's old town Toompea became great tactile exciters that affected people both aurally and physically.
Matt Green
Recordings around student areas of Leeds (Meanwood, Headingley, Kirkstall), uttering the ubiquitous graffiti tag 'Talk More', describing its location and the type of paint or pen that had been used, and a set of twenty extractor fan loops recorded around the same city.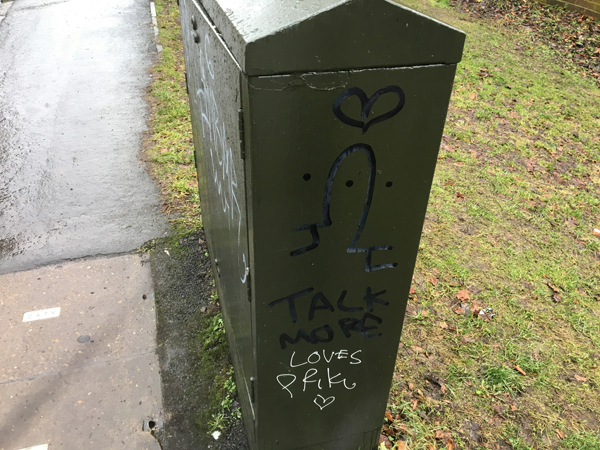 radio continental drift
Recordings from International Womens Day in Binga, the remote rural areas of Northern Zimbabwe on the Zambezi (2016) and children picketing an Mbizo political meeting in Albert Park, Durban. These are children of 'homeless' Congolese immigrants who had already been victims of xenophobic outrage in South Africa in 2008.
radio continental drift
Hannah Dargavel-Leafe
Recordings from the UCU (University and College Union) protests, March 2018, including interruptions.
Hannah Dargavel-Leafe
Clinic - There's a riot going on
Clinic
Chloe Watson-Gaukrodger - Meat is Murder and Post Milk Generation


The Redmen TV The Mo Salah song
with lyrics
Alex Ashcroft Picket march from Leeds University into town
Associate Lecturer, Northern Film School
Tom Hobson & Rhianna Griffiths
March 2018 recordings in Ensenada, Baja California, Las Vegas and Kaua'i, Hawaii
Ben Parry Le Dermier Mot (the last word), pirate radio broadcast from the Eiffel Tower, in collaboration with artivist John Jordan with excerpts from Guy Debord's Sick Planet (1971).
Cultural Hijack
With thanks
Jason Abbott, The Tapestry