Journey Through the Mirror Pool
Commissioned by National Science + Media Museum as part of the Supersenses exhibition, Bradford, 14 July - 8 October 2017.
Developed by Noise Orchestra and Alan Dunn in collaboration with Chris Watson.
Journey Through the Mirror Pool is a sonic descent from Bradford Town Hall's 67m high bell tower down to the very surface of the Mirror Pool public fountain and, uniquely, further down into its mechanical underbelly. Local students, artists and an internationally-known sound recordist explored the Mirror Pool using contact microphones, hydrophones, electromagnetic recorders and bat detectors to reveal sounds of Bradford that the human ear cannot normally get close to, or even detect. In doing so, our fantastical 10-minute sonic journey questions the relationship between industry and leisure. Where once factory workers headed to the beach on days off, this hidden engineering and high-tech recording technology now encourages us to get the deckchairs out in the middle of Bradford, sit back and listen.
Recordings made by Paul Ratcliff, The Psychic Audio Group, Steve Cummings (University of Bradford), Chris Hladowski, Alex De Little (University of Leeds) and students from Leeds Beckett University and The University of Bradford: Naomi Gilby, Paul Walsh, Paulina Kalwarska, Marcus Christensen, Jonathan Rourke and Kristina Avramova.
Exclusive Mirror Pool compositions:
THE PSYCHIC AUDIO GROUP E.V.P. + ENVIRONMENT PIECE, BRADFORD, 31st MARCH / 1st APRIL 2017
Founded in Yorkshire in 1999, the Psychic Audio Group initially worked with pure abstract tonality as a method to both generate and subsequently analyse paranormal phenomena. This piece is one of those works, taken from environmental recordings in and around the Midland Hotel and featuring psychoactive resonance fabrication, as well as discreet occurrences of incidental E. V. P. (electronic voice phenomena). The Midland Hotel was built in 1890 on Cheapside next to Forster Square train station. In 1905, the famous Victorian actor Sir Henry Irving and his business manager Bram Stoker (the author of "Dracula") were staying at the hotel as Irving played the title role in Tennyson's "Beckett" at the Theatre Royal on Manningham Lane. On October 13th, Sir Henry collapsed on stage from a severe stroke and was quickly taken back to the lobby of the hotel, where he then died. Irving's ghost has been said to appear in both the lobby and also the room where he spent the night before his last performance.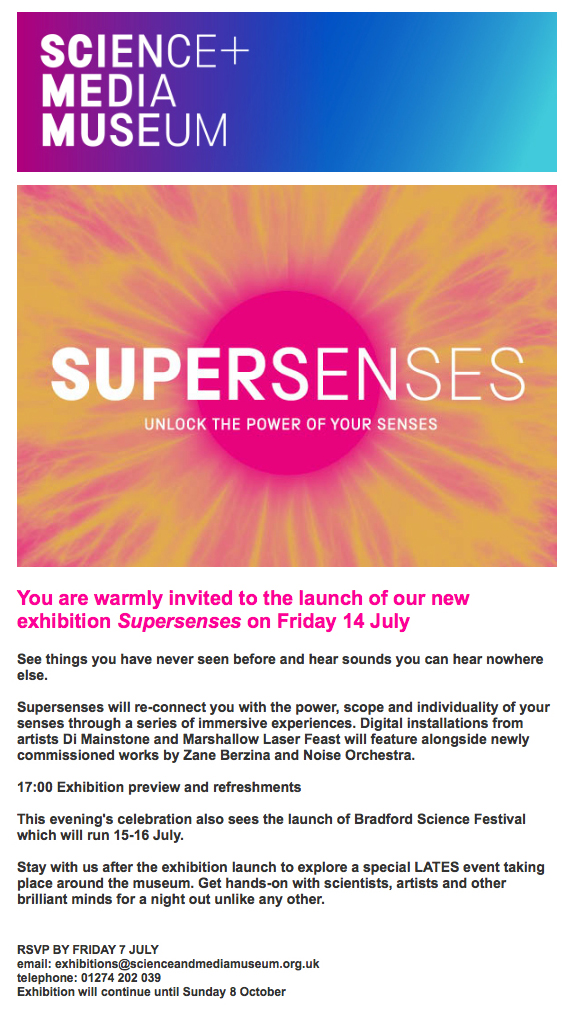 Press
Sensory Journey, Yorkshire Post, 7.7.2017
Put your 'supersenses' to the test at National Science and Media Museum's new summer exhibition, Bradford Telegraph & Argus, 7.7.2017
Credits
With thanks to the Museum team John O'Shea, Kate Davies and Kate Burnett - Phil Oates - Chris Watson - Noise Orchestra (Vicky and Dave) - Andy Abbott - Mark Goodall - Danny Saul - Sam Meech + Alex - Pro Audio Systems - John at the Mirror Pool - Tim Brunsden - Justin Burns and Carrie Braithwaite at Leeds Beckett University -




back