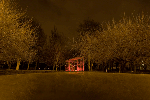 For two months the Outhouse itself will host two of Leila's portraits as transparent vinyl layers. Visible from the exterior of the structure, the portraits will live through and reflect the changing of season. For further information contact The Guinness Trust on 0151 428 9755. The Guinness Trust is a registered social landlord and manages Linksview and the High Rise Estate in Woolton. www.wooltonouthouse.co.uk.
Based in Liverpool, Leila Romaya www.leilafoto.com specialises in the documentation of arts and cultural events and is currently working on a collaborative project profiling ten deaf and disabled artists nationwide. Event programmed by Alan Dunn and Jitender Shambi with the Outhouse Steering Group.
Outhouse was created by Vong Phaophanit and Claire Oboussier.