Static puts artists in positions and demands/expects that they do what they do best, namely create new content. PZYK PRODUCTION LINE is the latest in a line of Static projects that aspire and conspire to break open the mechanics of not only institutions but the culture that those institutions trade on. Static is an x-ray machine meets journalist. They invited artists to give tutorials to architecture students and to review Degree Shows. During 2012 they curated Bill Drummond's Curfew Tower in a manner that negated presumptions around previous artworks made there. Static remains one of the most, if not the most, vital components in Liverpool. The fact that it emerged in the RAY + JULIE year of 1995 in Liverpool is but one facet to explore in future.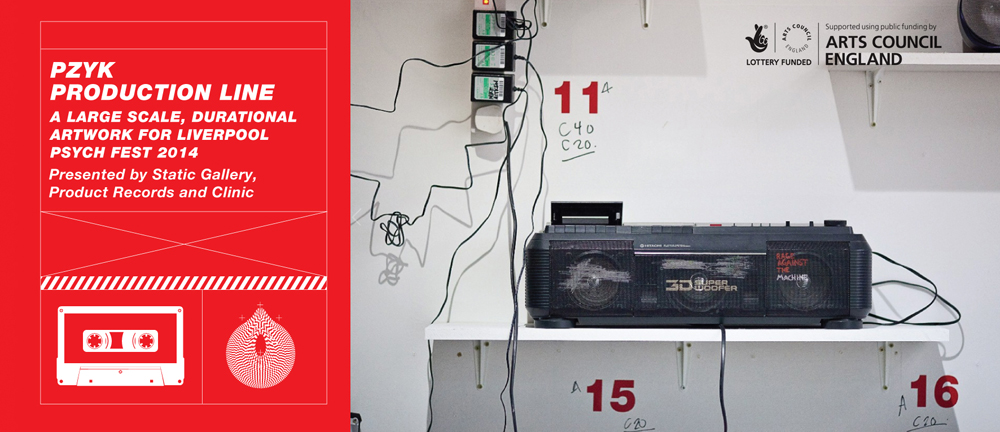 Top ten psych fuzz tracks, adapted from the original Green on red:
Fuzztones Bad news travels fast
Dream Syndicate When you smile
The Point All my life
Clay Allison Fell from the sun
Echo & The Bunnymen Thorn of crowns
Jesus & Mary Chain Never understand
The Nomads Have love will travel
Clinic Distortions
Nancy Sinatra Sugar town
The Chiffons Nobody knows what's going on in my mind except me
After the Museum of silence, there exists a 2'33" mix of noise from psychfest.
In a spirit of cross-polination.