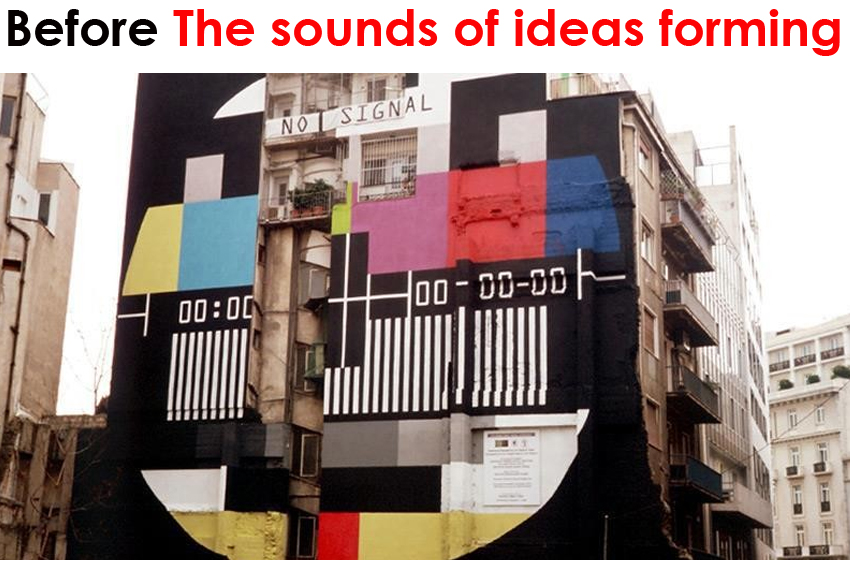 Broadcast of Volume 5 Before The sounds of ideas forming on RADIO ON, Berlin, from 5 December 2016.
Volume 1 includes The Birthday Party meets GBV, Springsteen singing 'will tear us apart' over backwards New Order, Scotland-Lithuania commentary, Melt Banana meets Rooney, '(can't) get satisfaction' recorded under the Mersey, one-second compositions (yesyesno: Irvine Welsh meets Rod Stewart meets Public Enemy), Baghdad suicide bomb news reports, Butthole Surfers meets Hungarian folk, Neubauten meets Norah, Ricky Nelson singing 'Gloomy Sunday' (remixed), Velvet Underground meets Sinead O'Connor, slow Neil Diamond, Woolton bells, the artist's dad emptying the living room with his guitar playing, Jello Biafra, Nico and Patti Smith on Jim Morrison, slow Brigitte Bardot, intro/outro, Jose Mourinho, Zappa on Jesus, Arts Council workers on a train, Kate Bush vs 'Halloween', Robert Wyatt & The Gonads' revolution, 'Revolution 9' and an exclusive 8-minute Philip Jeck remix.
Volume 2 consists of emptiness, repetition and revolution, slowed down versions of slowed down cover versions, Jimmy Witherspoon as Nick Cave as Tom Jones as Elvis Presley, 'Green eyes', 'Going underground', 'Nervous Breakdown', Septic Death, I hate you, I hate you, I hate you, I hate you, I hate you, I hate you, I hate you, I hate you, I hate you, Pere Ubu meets Zak, Billy Connolly, Marie Laforet, the only recording of 'The Lord's Prayer' performed by Siouxsie Sioux, Marco Pirroni and Sid Vicious, Johnny Rotten meets the National Anthem, new lyrics for the missing verses of Johnny Cash's '25 minutes to go' sung by a Cash soundalike, Kurt Cobain spliced to sing about the Loch Ness Monster, recordings of asking for Guided By Voices CDs in HMV, slowabilly from Dorsey Burnette, CaleWerk, grumpy Lou Reed interviews, and Maradona signing for Dundee as it falls apart in 'The End'.
Volume 3 includes sounds created by Dunn during his tenure with the groundbreaking Internet TV project 'tenantspin'. Volume 3 begins with curator Rene Block uttering 'never mind the blocks' to bridge the Sex Pistols with the tenantspin BBC Radio project 'SuperBlock', produced with Jeff Young; 'earworms in a dark city' is a rare recording set at sea as two drunk men drift towards Liverpool and bang out half-remembered TV theme tunes and pop hits on the piano; 'Inspirophobia' is an unpublished work that combines the end of an Inspiral Carpet track with a list of options as to what is being sung: I guess that makes me a bad man, or, It's amazing in my mind, or, Been so lazy in my life, or, Kids amaze me in my mind. Four tracks follow from the 'nogozones' project, curated by Claudia Wegener, combining an audio file "no man like my father" produced by Karon and Tutu with recordings of the Dunn's neighbour revving his Subaru up for four minutes every day at 6am. 'Michael on the roundabout' evolved from a tenantspin project with artist Wibke Hott and 'The Stoorry' emerged from a creative writing class between The Greenhouse Project and artist Shane Beales before being remixed by local punk band Walk The Plank. Volume 3 continues with the Philip Jeck funeral-remix of Dunn's 'Take the mic away' produced for 'Live at the vinyl junkyard' with The Bluecoat. 'Por Convencion Ferrer' is a soundtrack produced for David Jacques' film of the same name, shot in an empty library, and 'Empty studio background/foreground' were produced for Marion Harrison's 'Short Fuse' project, with air conditioning retuned to play Throwing Muses basslines and a text exploring the heaven/hell of an empty studio.
Volume 4 is a sad composition entitled 'LEAVES' about people leaving, built from only these two lines: 'My bags are packed, I'm ready to go.' It may feature: Justin Bieber, John Peel, Michael Stipe & Natalie Merchant, J Mascis, Byrds, John Denver, Monkees, New Order, Mamas & Papas, Judy Collins and the Kingston Trio.
Volume 5 is a super 8 soundtrack for a sad city centre pub on a rainy Wednesday afternoon. The old jukebox is filled with Roy Orbison, Rod Stewart and Phil Collins. Cinematic sounds of old table tennis games, Guided by Voices and sounds of cutting up vinyl record sleeves. Don't care. Nobody cares, exemplified by classic interviews with Elvis, Jam, Minor Threat, Bow Wow Wow, Sex Pistols and Siouxsie. 'Metal Machine Music' and the sound of the artist's name (all undone).

More on Before The sounds of ideas forming is here.