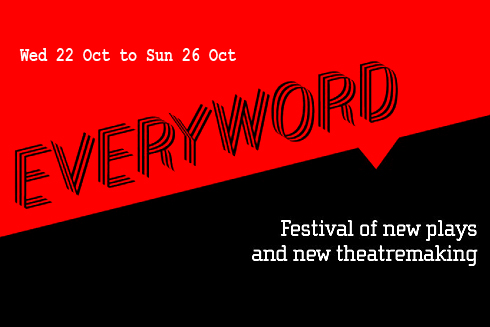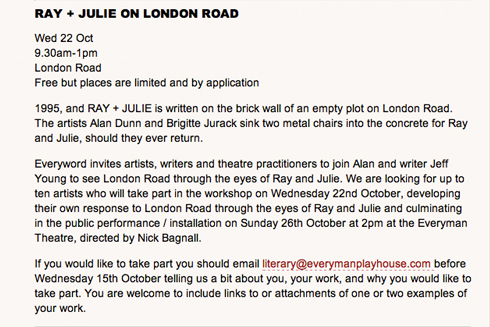 Planning Day and Workshop Day 1. We talk to the two men who own the premises at the back of RAY + JULIE. The whole area, they say, is earmarked to be demolished to make way for student accommodation. We look over at the former Odeon site as new student accommodation rises in its place. We find needles and human shit at the rear of the site. We try to chat to the barbers.
We introduce RAY + JULIE to the group and invite them to see London Road through RAY and JULIE's eyes. Paisley sees the space between the chairs as a no-man's land, a neutral spot in the city. Are we brave enough to let the actors remain silent? Nick observes the feet, off the ground, figures one metre apart. The missing tooth on London Road. Homeless people on the cut through to Lime Street. As we're chatting, a man rests his plastic bag on RAY and re-arranges what little belongings he seems to have. He seems pissed off that we are near his chair.
Workshop Days 2, 3, 4. Emma experiments with the night vision camera I bought. She records karaoke in The Lord Warden (Patsy Cline's 'Crazy') and the group write a range of texts that we decide need to be consolidated, cut-up, reduced, silenced and muffled. We are not sure what the story is yet but have a sense of what the medium (patina) should feel like - standing on London Road at 10am and 10pm and Roxy Music performing a hundred yards away in 1972 and mid-1980s Environmental Art at Glasgow School of Art.
Performance Day, Sunday 24th October 2014. And it went like this. The buildings toppled in on themselves. Heartbeat. Two lights. Two chairs. White forensic suits. RAY words on lower half, JULIE on top. Maybe not in this order. Missing teeth on London Road. You fucked up. No, you did. Red light. Patsy Cline's 'Crazy' sung in The Lord Warden. Close up of eyelashes. Night vision cross by chairs.
Silver legs. Red light. White forensic suit and Bryony painting with Japanese ink. Roxy Music's Battle of Britain and Sea Breezes. Jeff's voice put through Mark E. Smith through Butthole Surfers through contact mics on the chairs. We don't know the story so we muffle the words. Chairwork therapy. Twitching Paisley and guitars.
She was brave wandering up and down London Road on a Friday night. Be brave with the silence. Beckett. Punk.
Following material from Emma Bassnett