Green on red is an ongoing story of some lost/retrieved cassettes. It is told across websites such soanyway, facebook, eBay, YouTube, google maps and soundcloud and, in this latest incarnation, for the opening issue of Stuplex, a new artists' edition. Stuplex 001 takes as its theme 'decay' and has been instigated by a group of creative practitioners led by Paul Simpson and Angela Pearsall. Issue 001 is in an edition of 50 housed in a customised A5 box.
Green on red begins in Mount Vernon Woods in the east end of Glasgow in the 1980s with some buried cassettes.
The cassettes are gradually located and salvaged.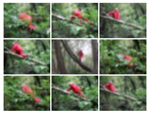 The cassettes are played, documented and distributed carefully.
In progress images by A. Pearsall.
Stuplex 001 launch, Everyman Theatre, Liverpool 1.5.2014.
The story begins by clicking below.