1995 With a very modest budget of £1000, RAY + JULIE is an economical but high-profile intervention. There is no lavish launch event nor major marketing campaign. They slide into existence. Note that Andrew Brooks is miscredited as Visionfest Director (John Brady) in Philips Keys' Art Diary and the front cementing by the bollards was never completed by the contractors provided by LRDA.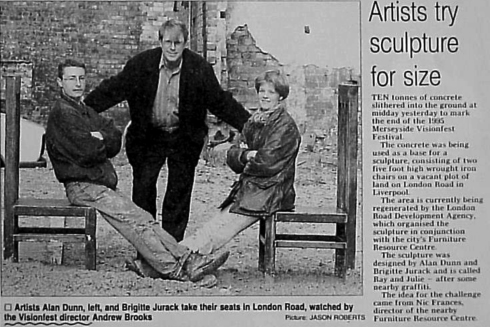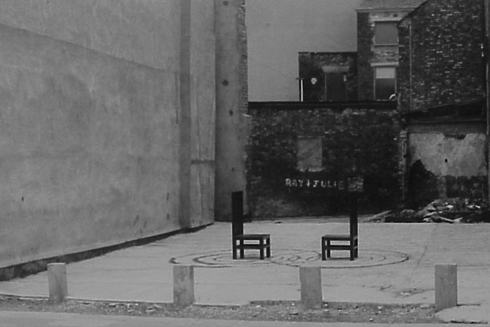 1996 At the height of Euro '96 in Liverpool, Dunn and Jurack pay tribute to the sculpture in the exhibition 'RAY + JULIE LOOK OUT!!' at the Three Month Gallery (now TriBeCa) on Berry Street. Devised as the alternative story, forty smaller chairs undergo everything life can through at them, from cradle to grave, isolation to community, order to chaos...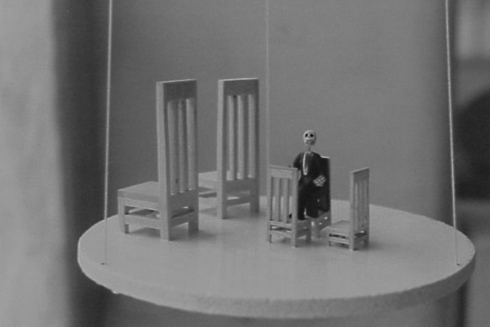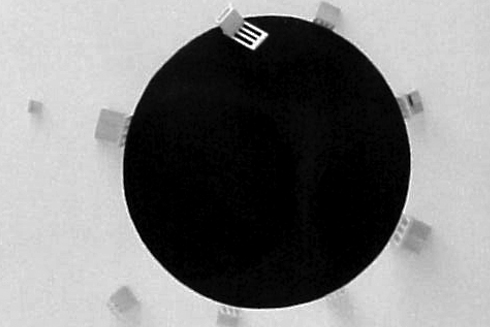 1997-8 Around this time, the original RAY + JULIE graffiti is removed. A student at LIPA becomes interested in RAY + JULIE, firstly by creating small stage-set models of them and then, after tracking down the artists and sharing the full story, by furtively re-spraying the names on the back wall (a short film exists).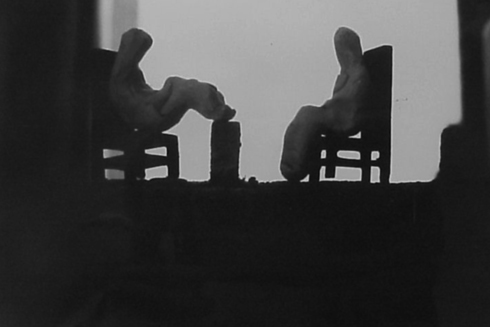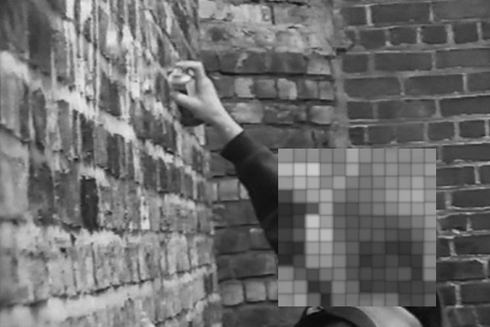 1999-2000 The Liverpool Architecture and Design Trust (LADT) assume responsibility for upkeep of the RAY + JULIE. As part of training young people in the maintenance of public art, detailed files are kept on the chairs. Around this time, the LRDA dissolves and Visionfest makes way for the Liverpool Biennial (and independent strand).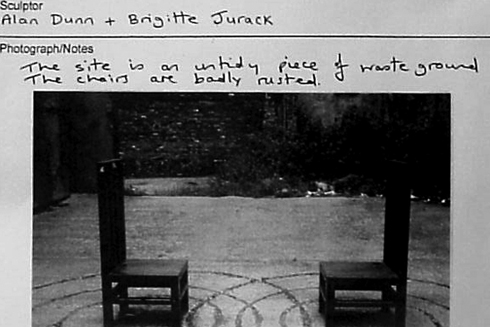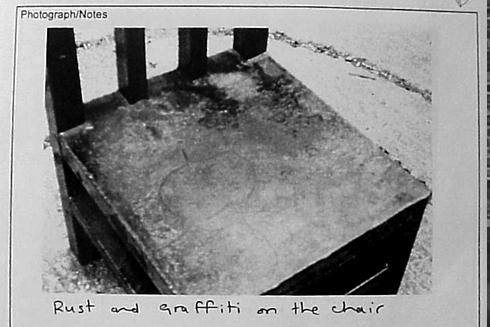 2001-2 The new graffiti remains and LADT's poet in residence Andrew Taylor pens this ode to RAY + JULIE.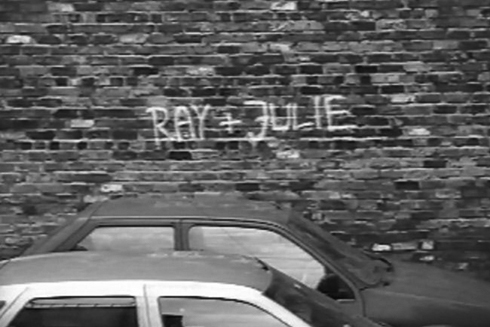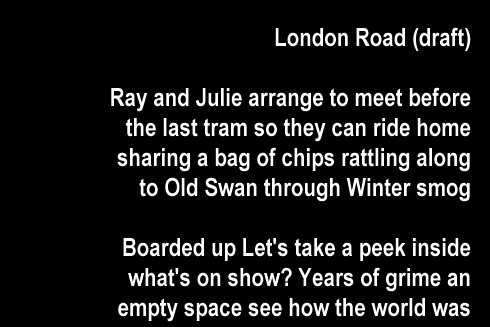 2003 New graffiti appears - FEAR EVOL SEX behind RAY and a halo and angel by JULIE (it was always presumed that JULIE was on the side of The Lord Warden).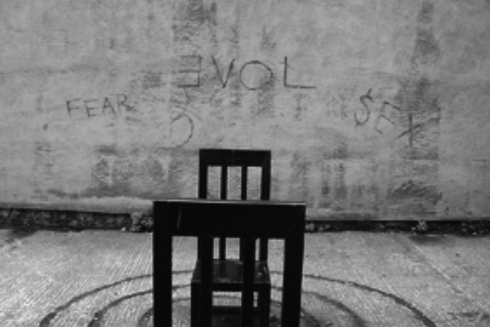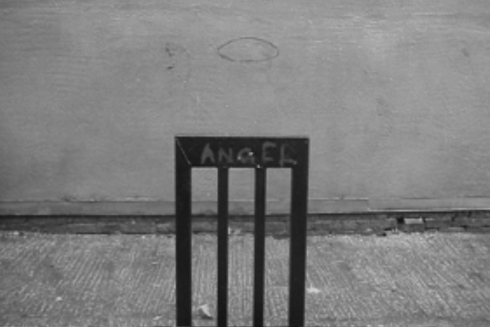 2004 Alan Dunn's godmother polishes the RAY + JULIE plaque as new scribbles appear on the chairs. The re-sprayed RAY + JULIE on the back wall has been scrubbed off and the FEAR EVOL SEX also removed (not by the artists who do not intervene in any way during the twenty years). Feint writing appears behind JULIE that may say ALL THE WAY.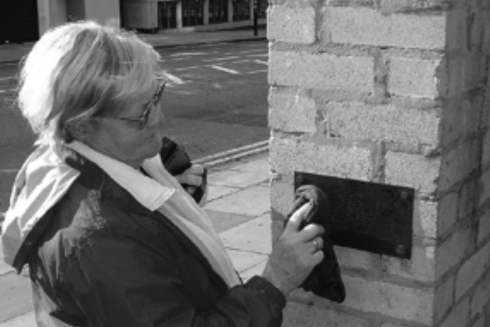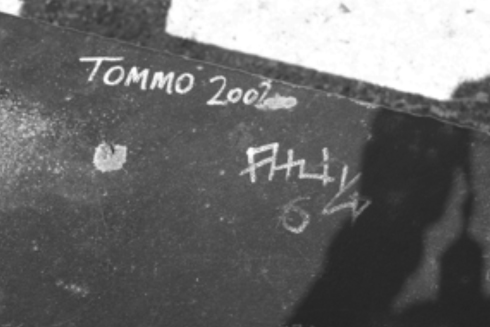 2005 part 1 The LADT are formally wound down and responsibility is passed on to Liverpool City Council who, when contacted by the artists, respond that they "are extremely glad to have found some living artists to deal with" in the management of Liverpool's public sculptures. LCC's Peter O'Brien mentions that the site is potentially part of the new Magistrates Court development but it now looks likely that RAY + JULIE will remain for at least another 12 months. Hotline magazine carries an article on 'The Hidden Art of Liverpool' and includes the entry '2chairs' (in an online poll the magazine carries out, RAY + JULIE are in equal 7th place with 6% of the popular vote). Behind JULIE, the large phrase TED BUNDY IS BACK appears and the plaque is scribbled over.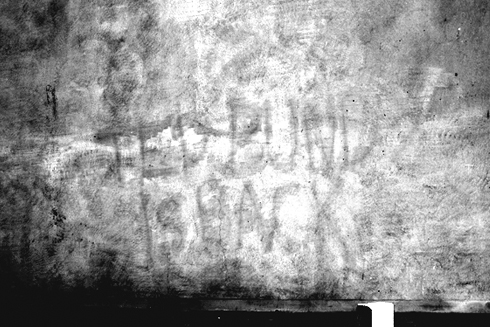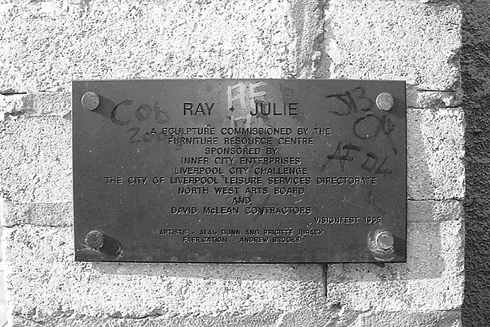 2005 part 2 To mark ten years of RAY + JULIE, Alan Dunn curates four new billboard artworks that are installed at the corner of Seel Street and Slater Street (billboard panel now gone). Jeff Young creates a tromp l'oeil finger-writing-on-steamed-window snippet celebrating the love between the RAY and JULIE character. Hamish McLain's painting warps London Road into a late 1960s psychedelic crash, Finnish artist Riikka Ala-Harja layers a text from Andrew Marvell's 'To His Coy Mistress' from the early 1650s over an image of the chairs being sunk into the ground and Alan Dunn layers ten years' worth of photographs of the chairs into one ghostly grey-green montage. See more details here.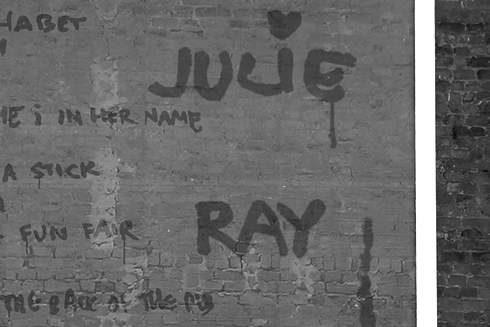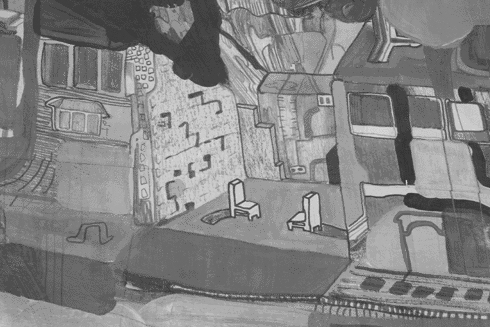 2006-7 RAY + JULIE feature on the BBC's 'Divine Art' series with Mark writing "they have the feel of a Japanese garden ... and when I first saw the piece I was in an on/off long term relationship. It reminds me of how we would meet in a cafe and sit opposite each other and chat ... whenever I visit it I feel both uplifted and sad at the same time." Meanwhile, the FRC moves out, refurbishment work begins on The Lord Warden and a piece of paper is found on the street with a list of things to see in Liverpool: "Tracey Emin, Queen Victora, Eleanor Rigby, 2 Chairs."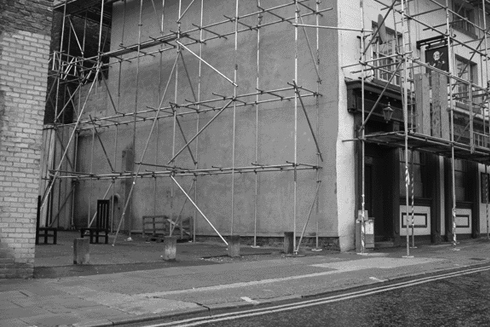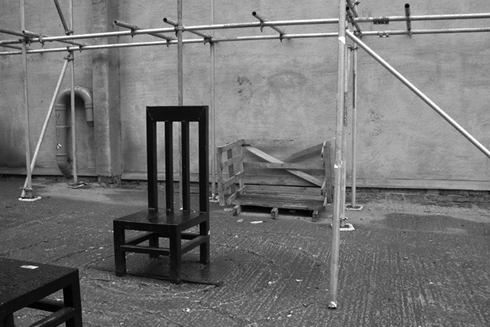 2008 Stockholm artists A-APE chose the RAY + JULIE wall to present one of their 'Visible Virals' texts, commissioned by the Liverpool Biennial. Each one is based on statistics and appear throughout the city centre, inviting RAY + JULIE into a much larger cultural context as part of the international exhibition but also Liverpool's year as European Capital of Culture.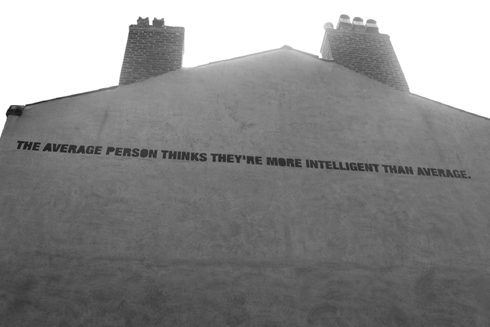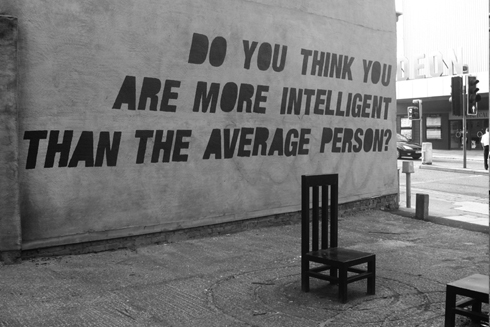 2009-10 Somebody scribbles "YES!" under the "Do you think you are ...." A front bollard is removed and sneakily stored under RAY to create illicit parking space. RAY + JULIE appear in a Guardian article entitled 'Secret Britain: Outdoor Artworks', alongside Henry Moore, Andy Goldsworthy, Barbara Hepworth and Tony Cragg. An image of one of the RAY + JULIE billboards is also reproduced in the publication 'Art in a city revisited', exploring artists' relationship with the city since the late 1960s to mark Liverpool's 800th birthday. Without warning, the A-APE text is covered by a Converse advert. New Order's Bernard Sumner straddles Julie. More details here.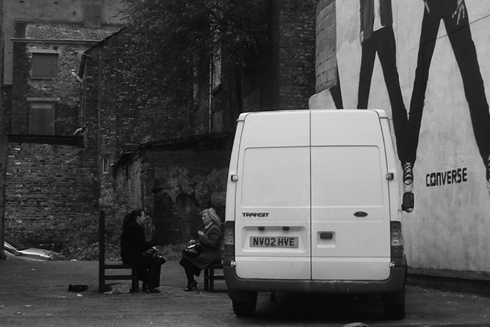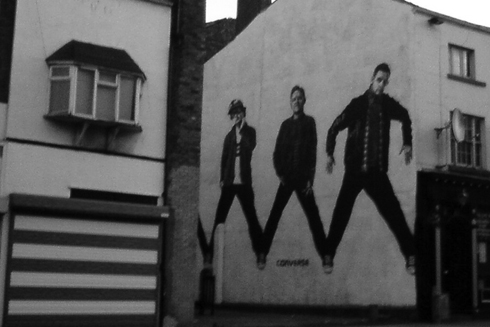 2010 part 2 Artist Andrew Smith contacts Alan Dunn after creating portraits of some local vulnerable people sitting on the chairs; the ghosts of Jerome's Photographic Studio. Smith prints the images at A2, slots them into Merseytravel advertising frames, re-photographs them and then removes them. By this time, Dunn and Jurack are getting calls or emails from people when they see things happening around RAY + JULIE. In February, eviction notices from Merseytravel appear on the chairs due to future widening of London Road to accommodate the new tram system. The chairs have perhaps a year left, yet in the words of Merseytravel "may even survive the development." Speaking to Liverpool City Council, they are intrigued when told the full RAY + JULIE tale and reply "that's interesting, maybe we could turn the two chairs into a special tram stop."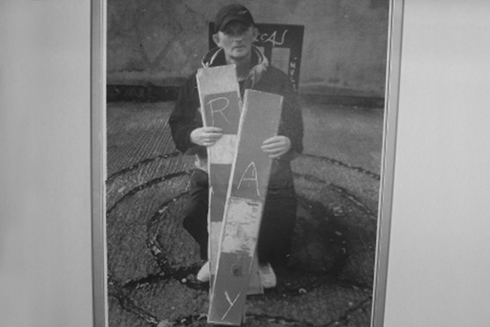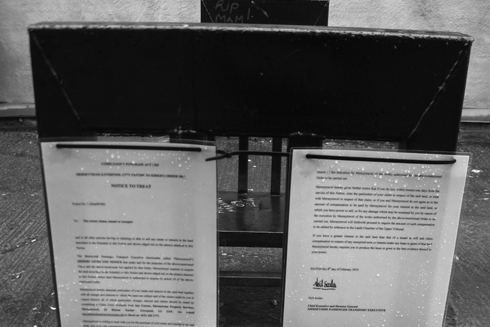 2011-12 The A-APE texts reappears as a new neighbouring shop opens - Harry's Barbers - and demolition work starts on the facing Odeon cinema (opened 1934). Further work is carried out on the adjacent walls and the workmen take inordinate care to wrap both chairs.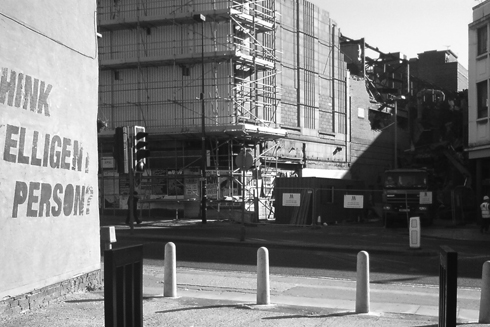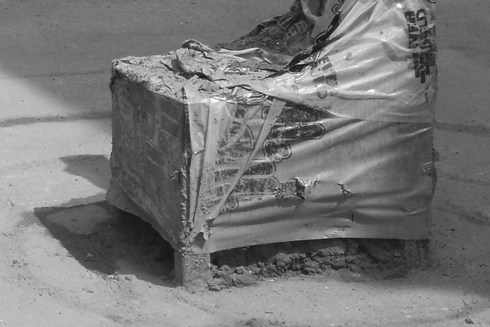 2012 part 2 The chairs are well used by families during the 'Sea Odyssey' and various new texts appear, including WHAT HAVE WE DONE?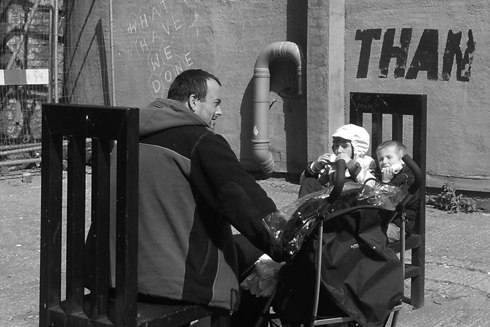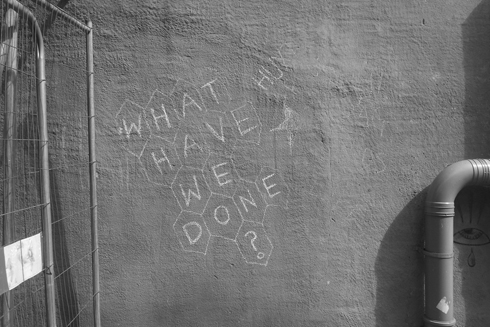 2013 RAY +JULIE are turned into a temporary outdoor pub by The Lord Warden. Alan Dunn and Jeff Young attach contact microphones to the chairs to record new soundworks as part of the 'Electronic Voice Phenomenon' event at the nearby St. Georges Hall. More details here.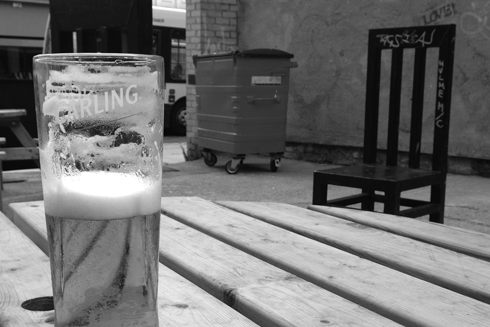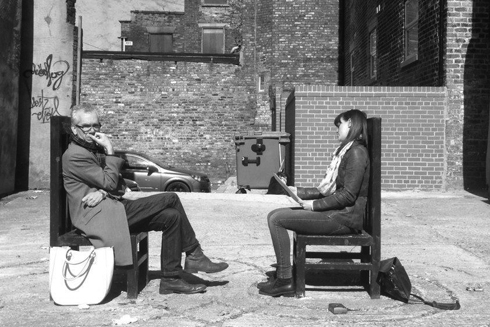 2014 Fire damages the furniture shop opposite and more rubbish starts to build up (Council phoned and tidied by following week). Empire Furnishing get a new hand-painted sign, and much more to follow.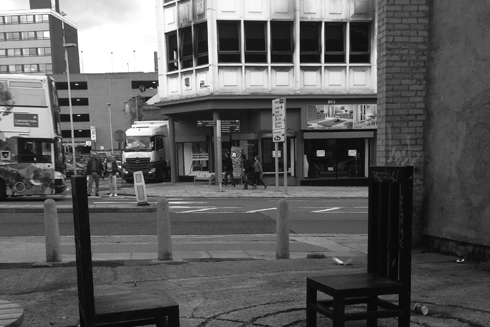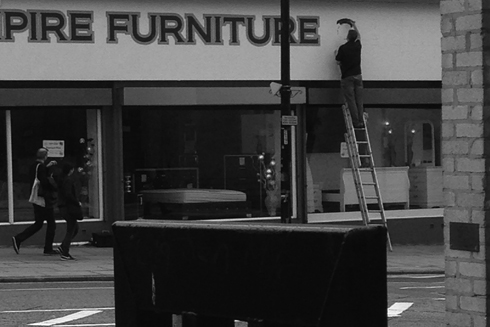 2015-16 The Everyman Theatre commission and co-develop a series of live pieces inspired by RAY + JULIE, leading to further screenings and a limited edition 7" single.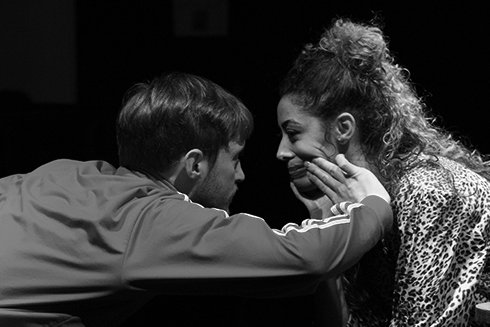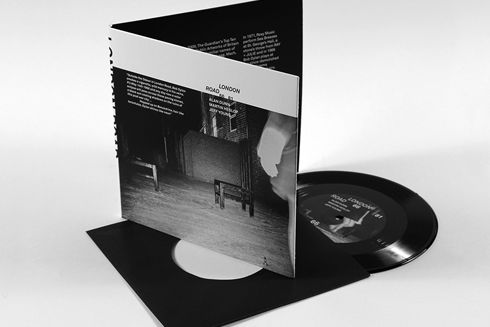 2017-19 The proposed sale of the plot falls through; RAY + JULIE become part of The Fabric District regeneration area and gain a new mural.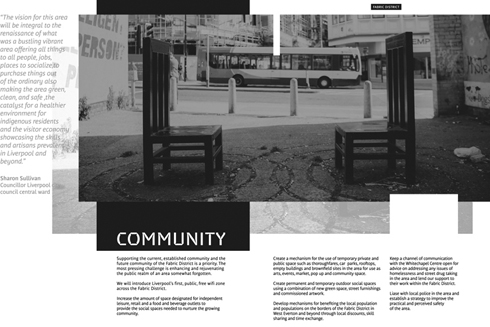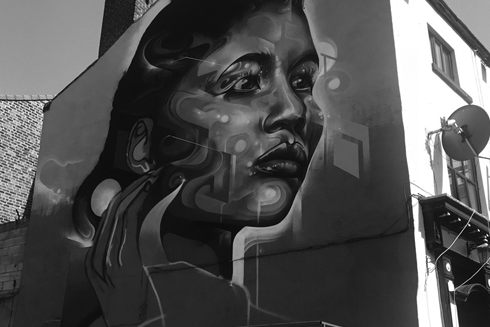 We publish The Ballad of RAY + JULIE with erbacce press, bringing together the photographic archive with texts by Andrew Taylor and Jeff Young, launching it with an exhibition in the Fabric District.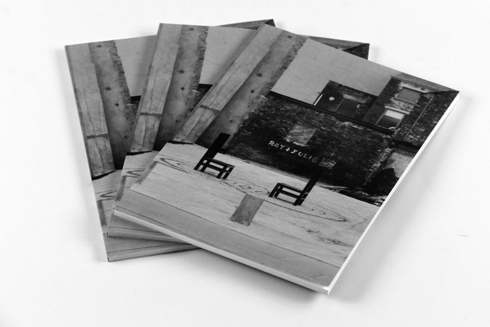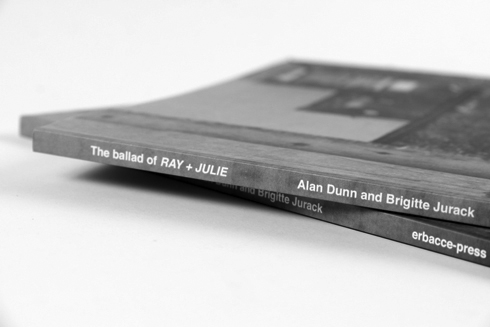 There we are approached by Julie Robson who shares the story of scattering her father's ashes by the chairs. Her parents met when they both worked in the JEROMES photographic studio on the very plot RAY + JULIE inhabit. A new mural for the Women's Wolrd Cup appears, featuring Nikita Parris, appears behind RAY.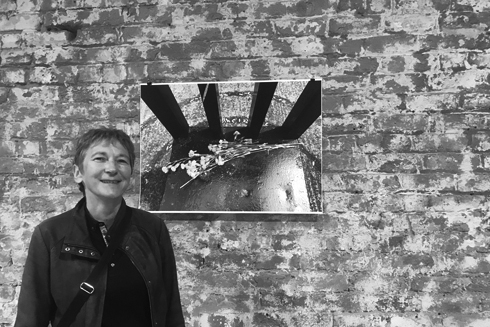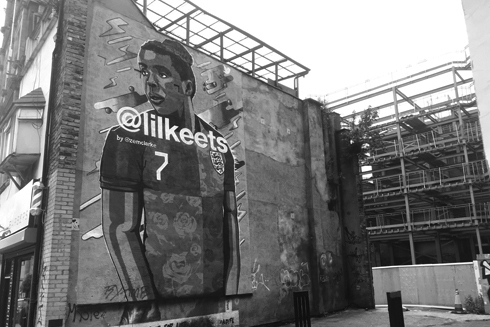 Without notice, Liverpool City Council's Labre House install three large planters directly in front of the sculpture.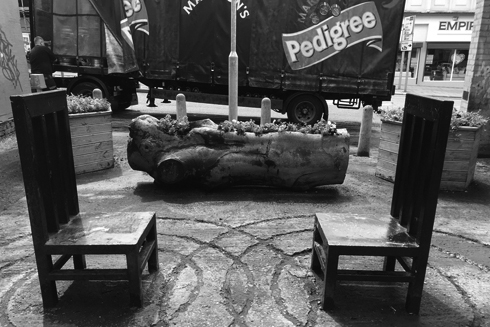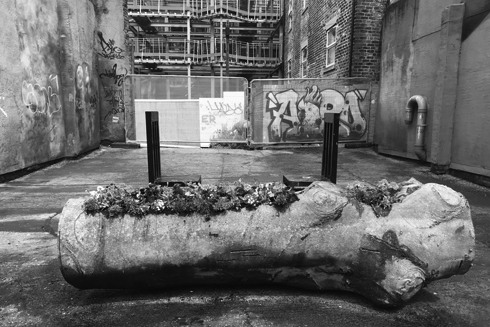 We receive an email from Barbara Wilkinson, sister of our original fabricator Andrew Brooks, sadly informing us that Andrew had passed away not long after welding RAY + JULIE for us. She sends this picture of herself with Tayo Aluko paying tribute to Andrew at the chairs. We also make contact with filmmaker Geoff Woodbridge whose award-winning film 'Some Girls Wander' features this promo still.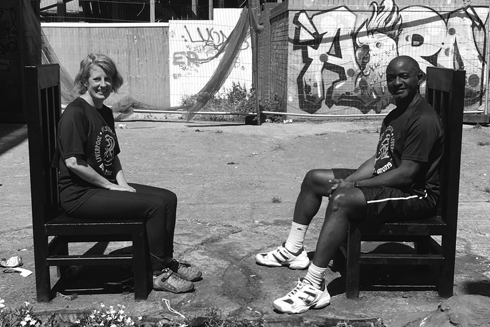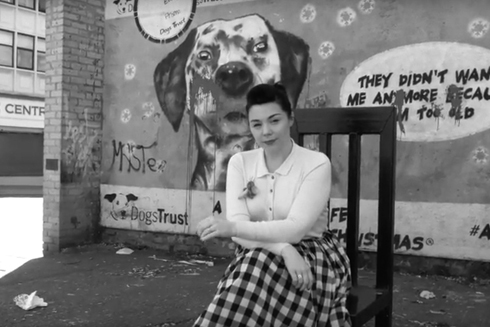 2020 RAY + JULIE approach their twenty-fifth birthday amidst COVID-19 lockdown. Whilst brightening up the plot, within a year the planters have become a haven for litter and worse, and their removal is agreed by all parties. Both chairs are daubed with stickers for local fashion house William Tutti.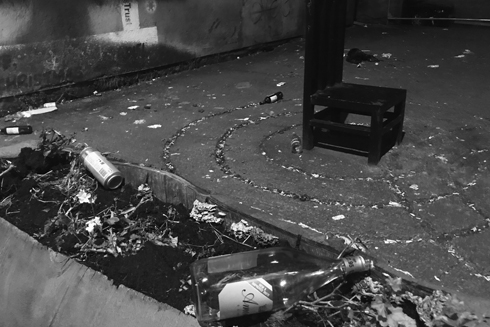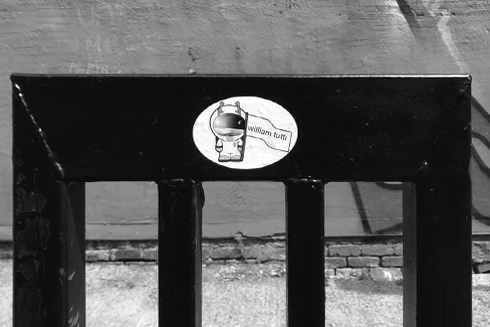 2020 On 1 November, RAY + JULIE turn 25 and the Liverpool Echo carry a feature online. At some point, The Lord Warden pub closes and re-emerges as a cafe. The development behind RAY + JULIE (more student housing?) seems to grind to a total halt.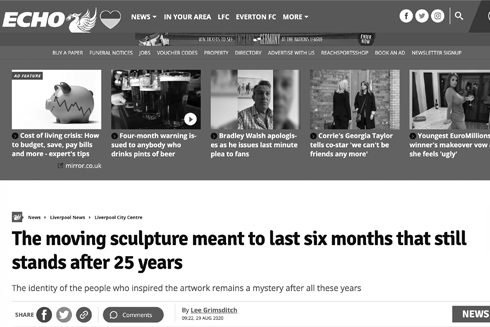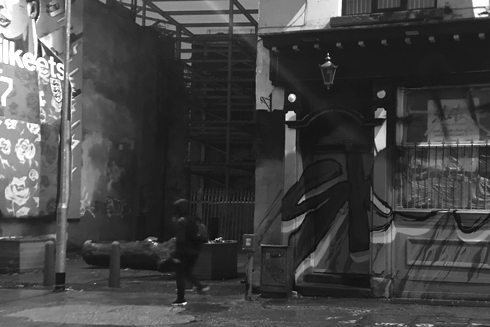 2020 To mark 25 years, we produce a commemorative postcard and our little Spiderman grandson visits for Christmas. Some Covid restrictions continue.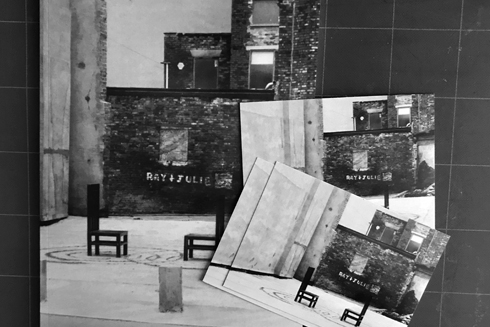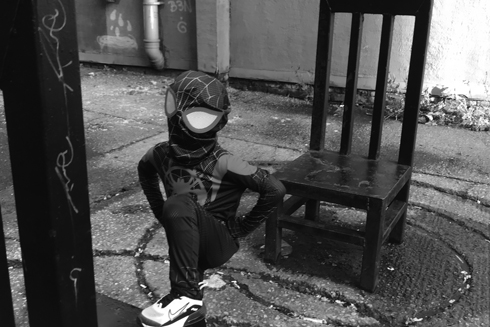 2021 The site is littered with Covid test kits. bottles and cigarette butts. We place a copy of Paul Young's 'No Parlez' on JULIE, a prop from another project, ZERO PLAN, started during lockdown.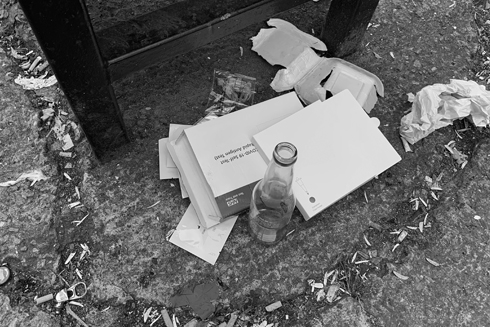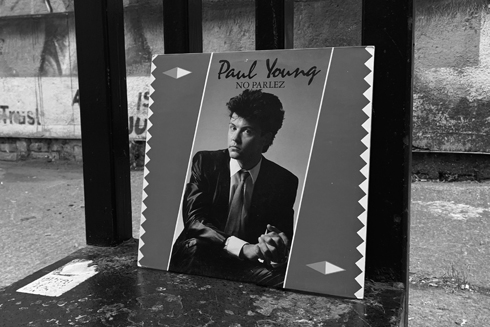 2021 The site gets worse, despite our numerous (fruitless) texts and emails to Liverpool City Council. The only response is an independent one, Councillor NS proposing converting our artwork into an outdoor seating/drinking area. It will not happen on RAY + JULIE's watch, nomatter what the politics of the space are.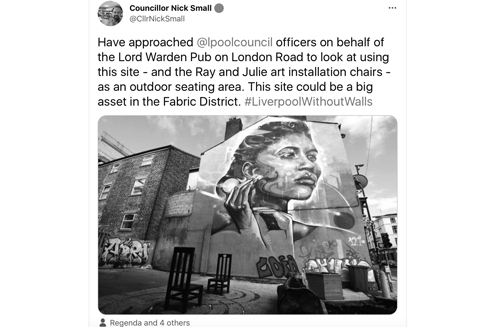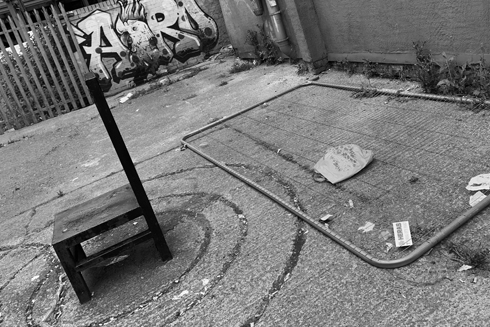 2021 The original artists venture into the city centre after another lockdown.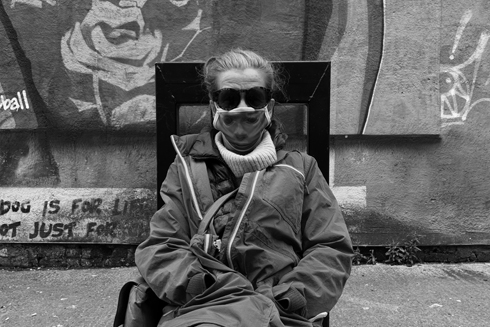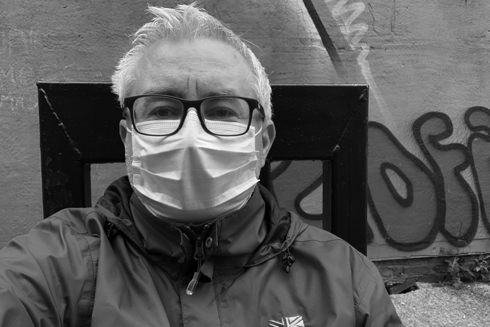 2021 The grandkids and daughter visit and we pop along to RAY + JULIE each time we pick them up from Lime Street.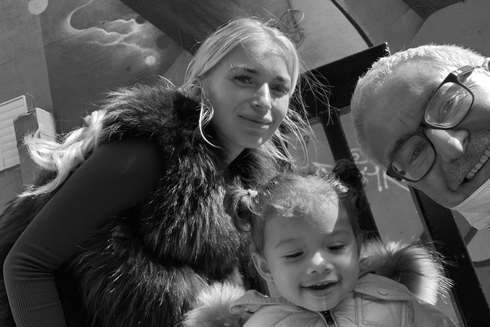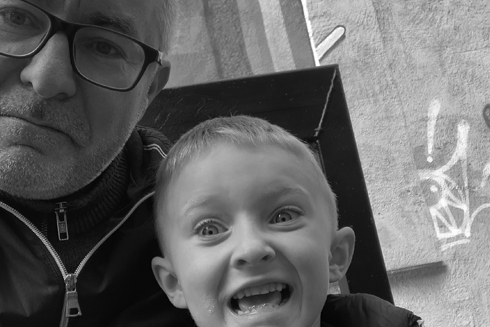 2022 May - Alan's mum sits with grandson Joey.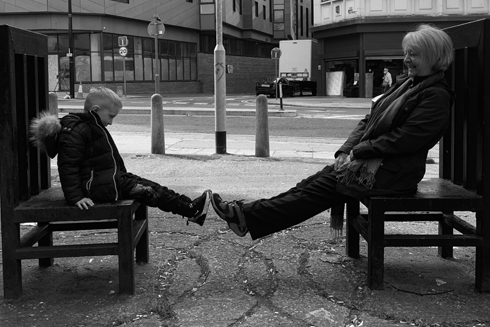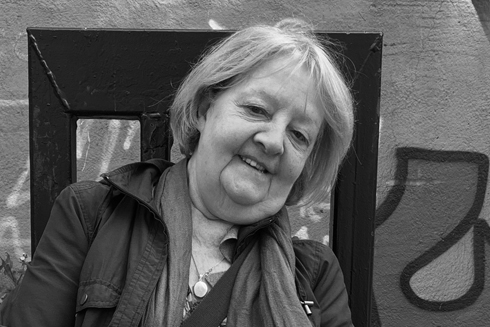 2022 March - on town for the opening of 'Making sense' at the Bluecoat, Leeds Beckett University students Kristina Nenova and Frankie Mazzotta pay RAY + JULIE a performative visit.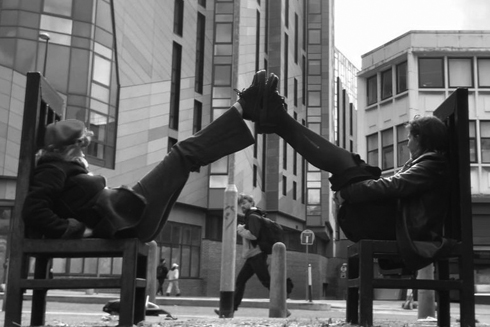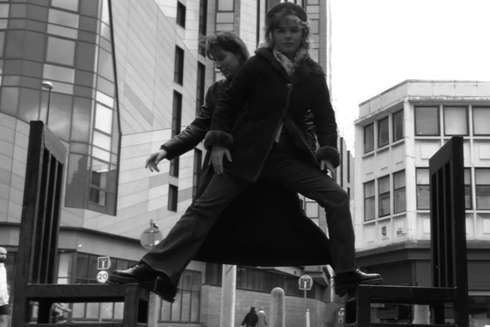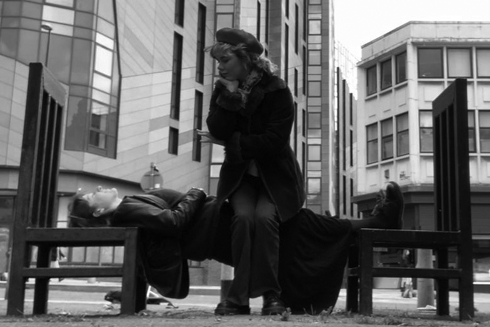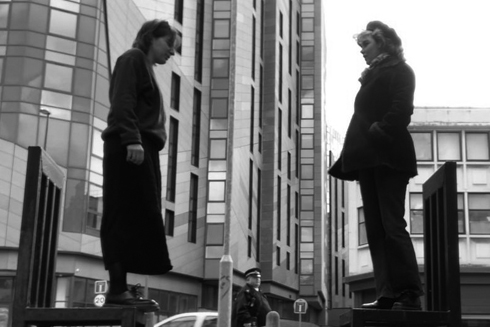 2022 September - en route to the Isle of Man Ferry, a group of artists and academics pay their respects.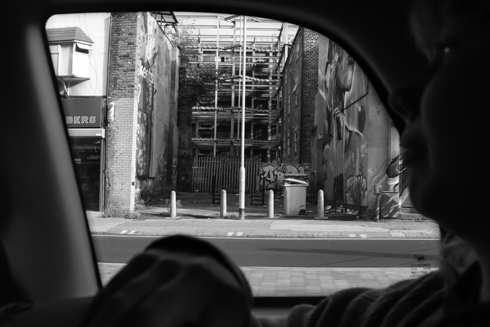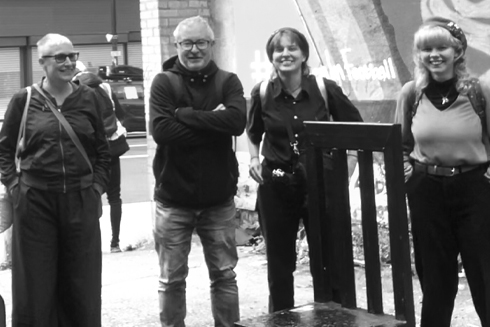 2022 November - wandering to Christmas market with grandson Joey, we spot some people discussing the chairs. I introduce myself and get a picture. The Double Negative Public Art walk takes in RAY + JULIE.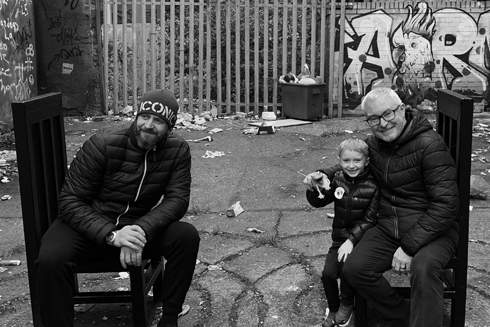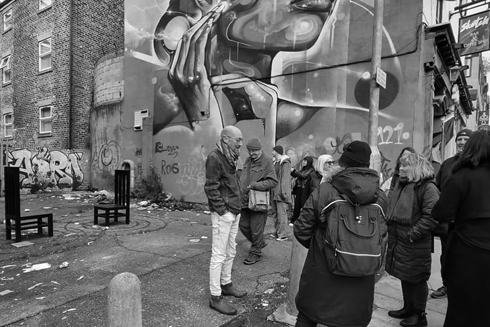 2023 January - the walk is followed by a great article by Ed Haynes in The Post and then Neil Morrin messages to point this out - Liverpool City Council appearing to put the site on the market (again) - although in a nice touch, RAY + JULIE are referred to throughout the spec document.