WE ARE ALL ..... (FOUR WORDS MEETS PARIS 1968) curated by Alan Dunn with Ben Parry and MA Curatorial Practice, Bath Spa University, presented on the 7m-high Media Wall in the Newton Park Campus of Bath Spa University between 1-17 May 2018.

Texts by
Alison, anonymous Newton Park staff, A. Balkin, Beate (domestic service), BORIS, Alison Brice, Fiona Campbell, David Michael Clarke, Nina Edge, Jill Gibbon, hellanwell, Deana Kolencikova, The Laboratory Of Insurrectionary Imagination, Loraine Leeson, Robert Luzar, MA Fine Art and MA Visual Communication, Misspent Potential, Adam Nankervis, Mariele Neudecker + family, Scott Sandford, Victoria Sharples, Gregory Sholette, The Singh Twins, They Are Here, Mathieu Tremblin, esther tyler-ward / ezra tyler-ward (aged 5), Conor Wilson + family, Zevs.

Background
The May '68 Paris uprising began with student occupations of the universities and spread to the factories until the whole country came to a standstill. Through a refusal to speak and negotiate terms, new relationships emerged between students, workers and intellectuals. The streets, awash with slogans, posters and pamphlets became the space of 'a movement of words'. Art students at Ecole des Beaux-Arts took over printing machines and produced posters that captured the popular imagination of the movement. On the 50th anniversary of May '68, MA Curatorial Practice students at Bath Spa University are creating a project of words for the Media Wall in Newton Park. The project once again combines the voices of workers, artists and students, starting with and editing slogans from 1968.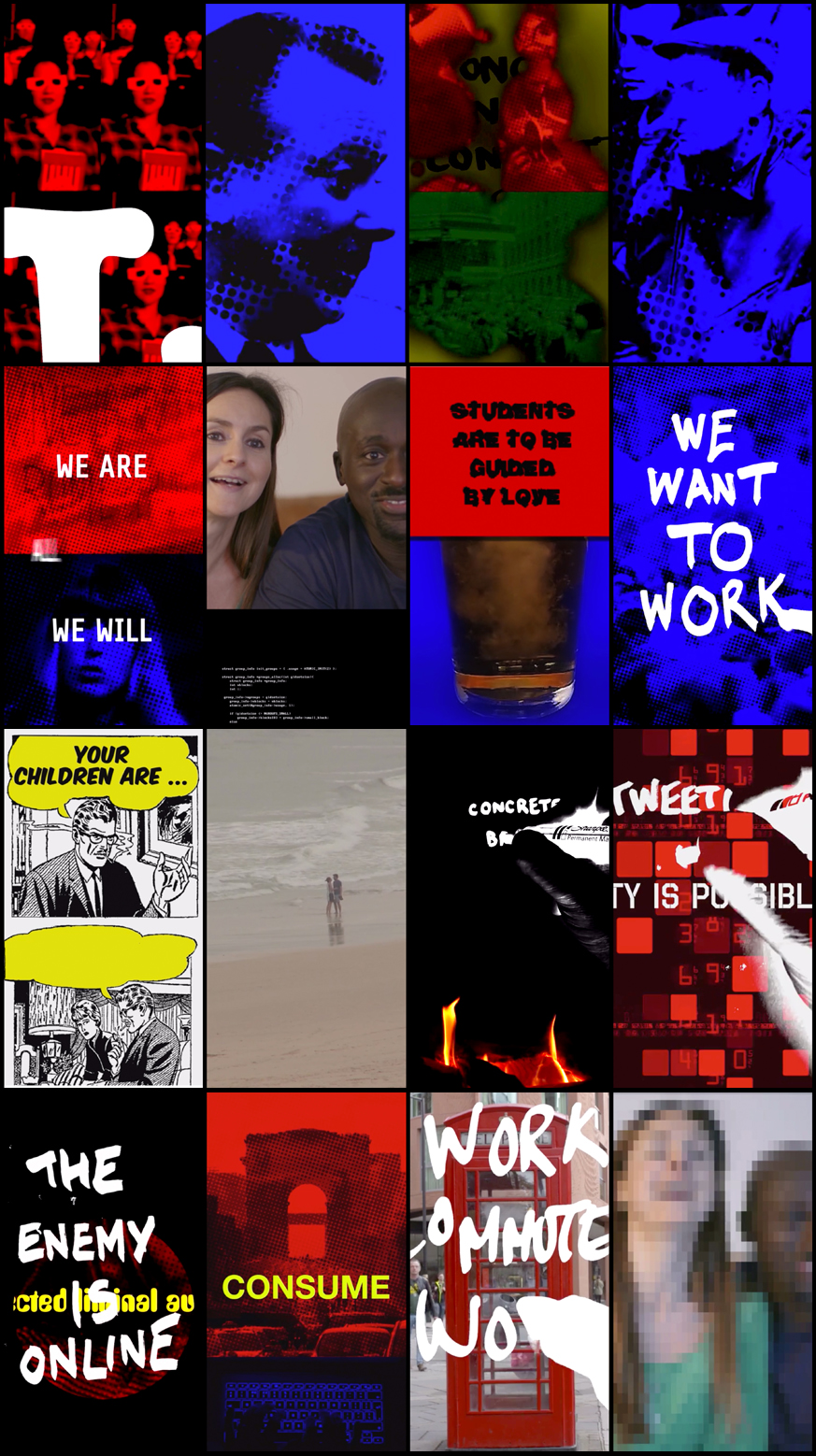 Click here for original brief.
Click here for full list of submissions.
Quote
"I worked with the MA students on the formation of the project as they considered Situationist texts and Mitch Abidor's May '68 revisited text exploring the actual relationships between students, workers and artists. The Bath students co-drafted the brief and wanted to extend the invitation to all those who worked within the Newton Park Campus alongside students from the four other Masters courses and invited artists. We selected about forty 1968 slogans, beginning with 'We are all .... ' and started removing key words to allow the editing and updating process." AD, April 2018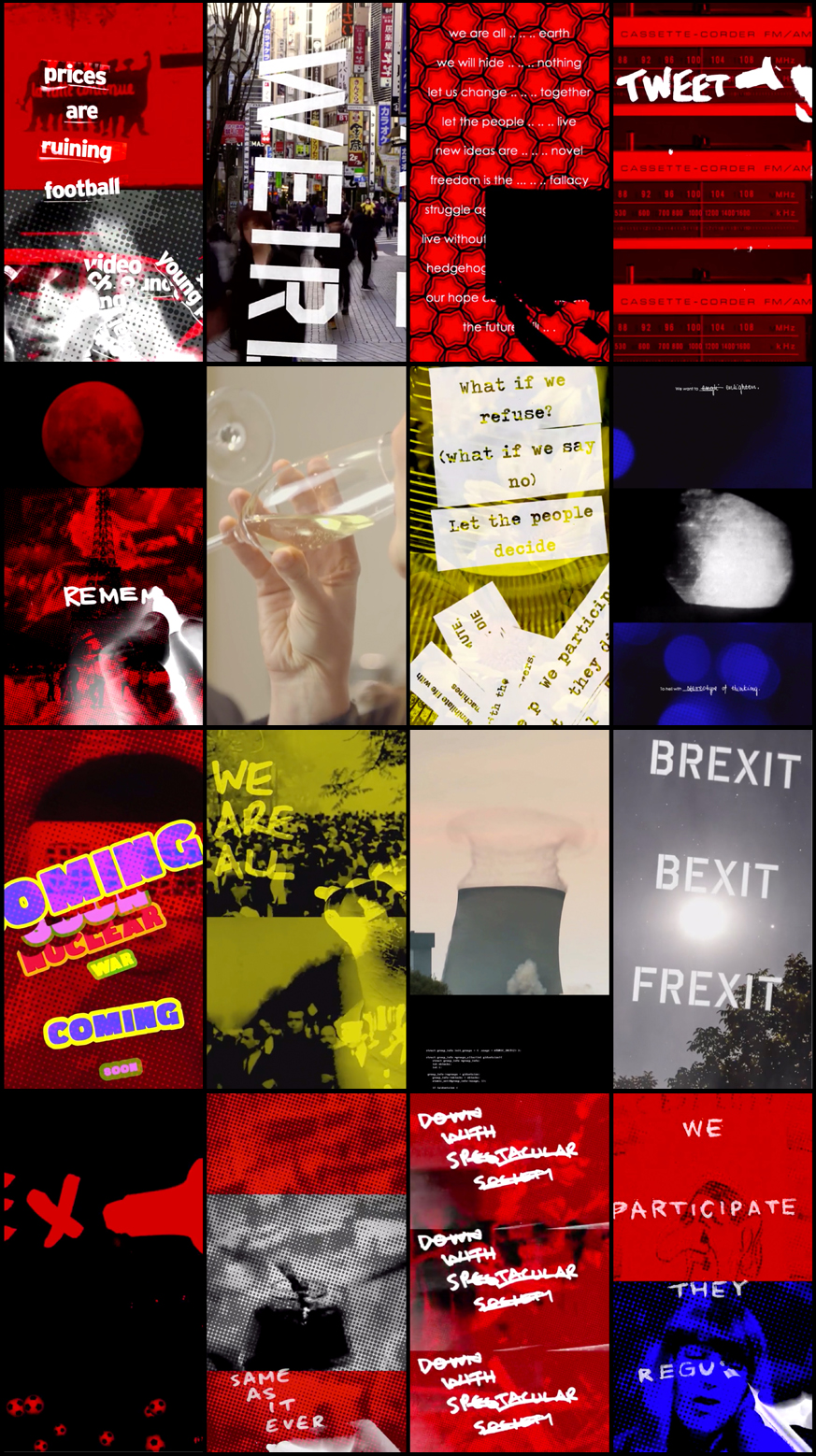 Credits
Animations by Alan Dunn. With thanks to Ben Parry, Anthony Head, Joseph Hyde, Neil Glenn at Bath Spa University and all the MA Curatorial Practice students: Beatriz De Araujo Nogueira, Alison Brice, Charlotte Harryman, Despoina Fasouli, Francesco Ferranti, Kirstin Claxton, Lucie Perrier, Margarita Trujillo Vargas, Olivia Coughlan, Susan Hay, Sitheag Mckinnon .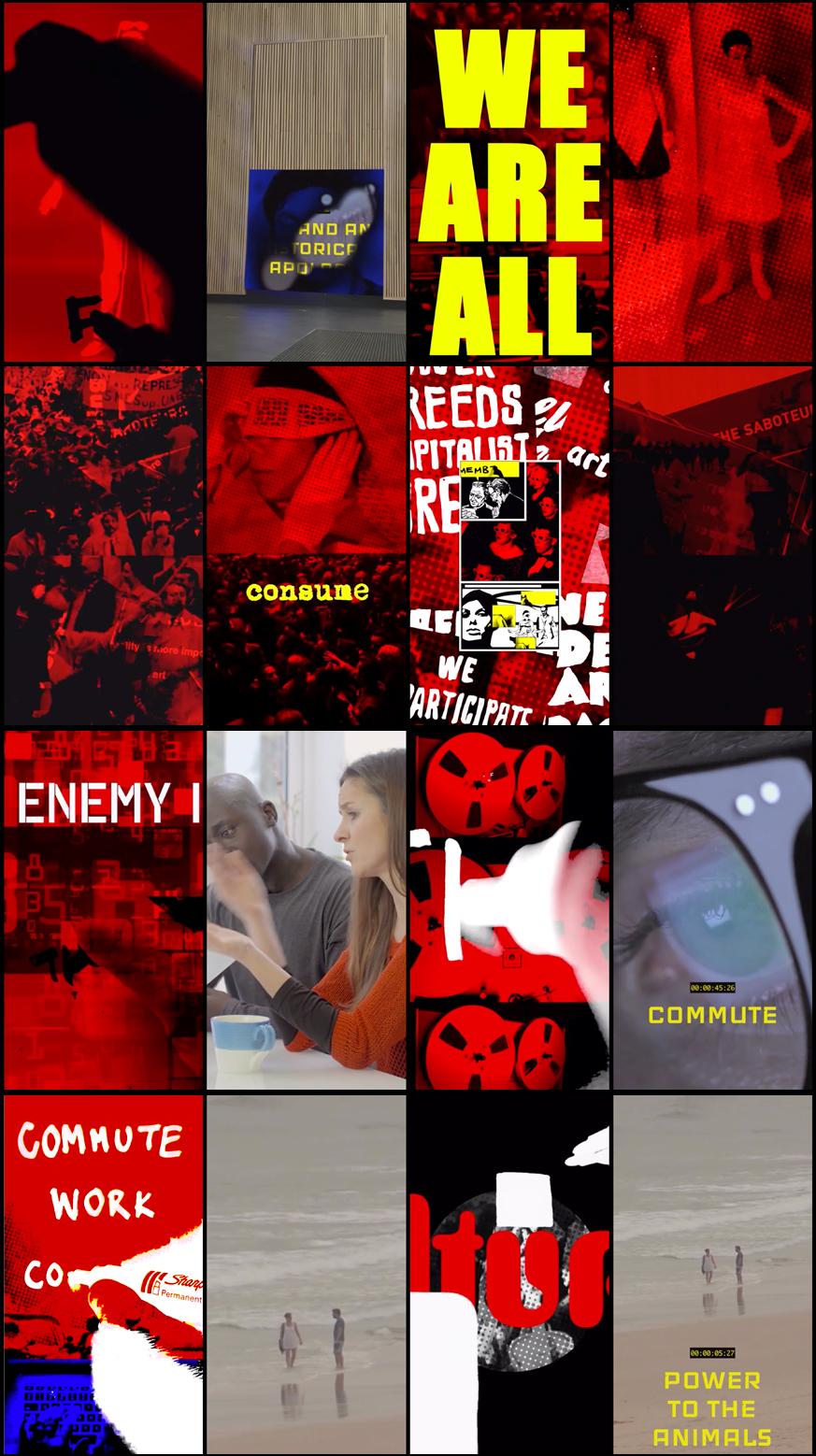 Four
We have explored 4 before - Adventures in numb4rland, FOUR WORDS: TECHNOLOGY, FOUR WORDS: JANUARY, FOUR WORDS: MARKET and FOUR WORDS: ACADEMIA.