August 2015
Alan Dunn and Roger McKinley were invited by David Penny to contribute to his Work on the line project. David has been researching the significance of the Manchester-Liverpool rail line and is collaborating on a series of artists' proposals that are initially published in this limited edition book.
As two regular users of that line, albeit in opposing directions, we became interested in the female announcer's voice. We tried to track her down to no avail, but did communicate with the Manchester-based Elinor Hamilton and Phil Sayer who are the voiceovers of London Underground, BT, BBC and many more. For the publication, we put out an open call to artists and illustrators, with a short sound file from January 2015, to imagine what the TransPennine reader my look like. We also proposed reworking some of the announcements inside the TransPennine trains into a series of oblique interjections, partly inspired by Jeff Nuttall's 1984 BBC Radio piece around the poetry of misheard public announcements. We published the first thirteen, including:
- Please do not leave
- Welcome to change
- We apologise for you
- Where this train?
- A full emergency John Lennon inspection will take place
- Parkway, Parkway, this is Parkway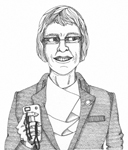 Publication
We shortlisted six illustrations and chose Elizabeth Kearney's as the main visual. We are discussing what happens next. David will prepare an Arts Council application to make some of the proposed projects happen. We will propose staging a live event in one of the carriages, perhaps with Elinor and David reading our Incantations for the duration of a journey, while disseminating Elizabeth's illustration to visualise the disconnected voice.