16 NOVEMBER 2001
R. Joaquim Silva, Rio de Janeiro, BRAZIL
16 OCTOBER 2003
Lars Hillesgt/Christiesgt, Bergen, NORWAY
16 JANUARY 2004
19-33 Leece Street, Liverpool, ENGLAND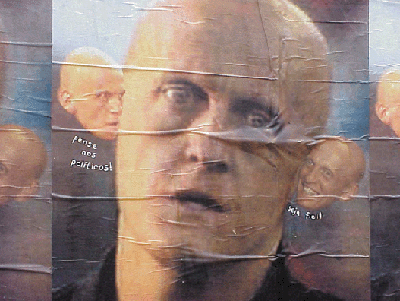 Portraits of Pierluigi Collina (The Emperor of Honour), flyposted, installed and posted at various locations. Up close, his ears are revealed as smaller portraits, one scowling, one smiling. These act as his (and society's) devil and angel; small texts in the host country's language, offering polar opposites on subjects of the day.

INDEPENDENTLY FUNDED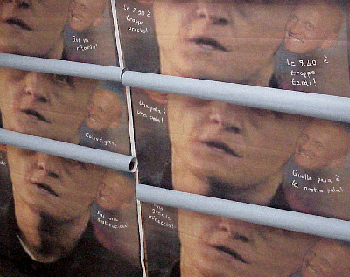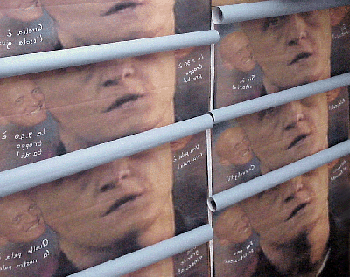 An early version was flyposted in Rio with the assistance of Luis Andrade and Alexandre Vogler. The Portuguese texts reflected the concerns of the local (Lapa) community, ranging from the debate over the forthcoming elections (and a desire for Brazil to NOT qualify for the World Cup - which they eventually won - in order to focus minds on the politics) to the individual daily decisons on playing safe or taking risks.
The second version was installed in the windows of the by the way space in Bergen with the assistance of Annette Kierulf. The Norwegian text focusssed on decisions around courtesy, neatness, noise and the generation gap. Five days prior to installation, Collina refereed "the Turkey-England showdown" while simultaneously advertising Italian ties in the inflight magazine...
The third and final version was installed on a 48-sheet billboard in Leece Street, central Liverpool. At the suggestion of The Bluecoat Gallery's Catherine Gibson, the twelve texts appeared in Italian rather than English. Right at a heavily used bus stop, they reflect a scan through a daily newspaper or an overheard conversation, the rumblings of an underused mind. Stay dry! vs Get wet! Be patient! vs Life's too short!
HONOUR translations by Ricardo Basbaum, Annette Kierulf and Stefania Corbelli.